How to Apply for an American Express Card. It used to be that an American Express Card was mostly used by businesses or people who could afford to pay the balance in full each month, but that has changed over the years. With a variety of membership rewards available and the introduction of a line of cards which allow the cardholder to pay a balance over time, more people are choosing to apply for an American Express Card. The company makes it easy to do so online.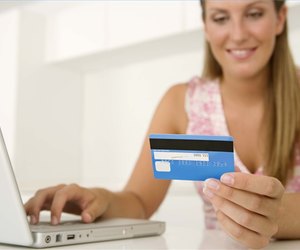 Apply for an American Express Card
Step
Familiarize yourself with the different types of American Express Cards. Most of them ask for the balance to be paid in full each month in return for the low APR, no annual fee and other membership benefits. However, there are a few products (namely the Blue cards) which allow you to pay off a balance over time.
Step
Decide which benefits are most important to you. American Express has numerous rewards to choose from, including (but not limited to) earning membership points to redeem for merchandise, discounts on entertainment and travel and a variety of partner cards. Partner cards allow you to earn frequent-flier miles or points to use in certain hotels and stores.
Step
Investigate the diverse line of products American Express provides to those who apply for a credit card. In addition to credit cards, American Express also offers other financial services, travel insurance, traveler's and gift checks, as well as a full bill-pay consolidation program.
Step
Look for the padlock icon when submitting your information via the American Express website (see Resources below). The site works with most browsers to provide a secure connection when applying for or registering a card. However, to ensure the privacy of the information sent to American Express via email, you must use the available Secure Message Center.
Step
Click the "Apply for a Card" tab at the top of any page. Use the questionnaire to help determine the best card for you, choose a card by features or use the "Quick Apply" option.
Step
Choose to "See All Cards" if you don't see the icon of the card you want to apply for. It will bring you to a full listing of American Express cards. Click on the icon of your chosen card.
Step
Fill out all the information fields, choosing the appropriate optional benefits and deciding whether you want an additional person added to your account.
Step
Print and read the "Terms and Conditions" of the card before confirming all of your information.
Step
Submit your application.