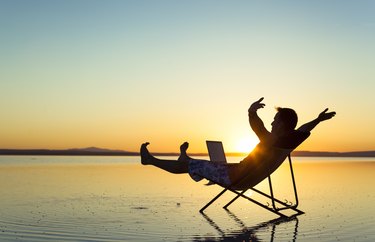 Over the summer, I decided to start focusing more on the creation of passive streams of income. What is passive income? Anything that you continue to earn money from long after the work has been completed: A rental property filled with tenants, a YouTube tutorial that generates views and ad clicks, peer to peer lending, or affiliate links are all great examples. Essentially, you do all the work up front and and (hopefully) watch the money roll in.
I decided to focus on passive income streams in the form of affiliate sales on my personal blog. In this case, I write reviews or recommend products and then if someone makes a purchase through my affiliate link I make a commission.
The reason this is passive is because the posts live on my blog forever and keep making me money. This in contrast to freelance writing and consulting which, although I love, requires me to put in work hours in order to get paid.
I'm happy to say that within a few short weeks of starting to take this more seriously, and with the coaching by one my colleagues who specializes in passive income, I've gone from making a few bucks here and there to earning hundreds of dollars a month.
Now that I know what to do my passive income will continue to increase, but really? A few hundred dollars coming in each month is already changing my financial life. Here's how.
My IRA is happy.
At this point, I've decided that any money I make in affiliate sales will go into my IRA. I'm still treating affiliate sales as "extra" money since my bills are pretty much covered with writing and consulting.
This may change in the future, but for now this means I can move $1000 I've earned in affiliate sales into my retirement account.
I was less worried about a hurricane.
My area of Florida recently had a close call with Hurricane Matthew. Fortunately, my area came out relatively unscathed and I didn't even lose power. However, even if I'd been without power and unable to work for days, I could rest easy because I was still earning money passively through my blog. I even made $100 during the storm through my blog.
Not only that, but that I'd already made enough money passively so that some of my bills would be covered feels amazing. This kind of financial peace of mind is literally life changing.
I have more freedom when I travel.
I was recently on a cruise with my family for a proper vacation when I started receiving email notifications that affiliate sales were being made on my blog. I made nearly $200 in one day while I was sipping a margarita in the middle of the Caribbean.
I know this all sounds like a pipe dream or some terrible Facebook ad. In fact, that's why avoided trying it for a long time. I thought it was all a scam or that it would be impossible to see any real results relatively quickly.
But I'm here to tell you I've actually experienced this. While I'm not exactly making millions, I am making enough to cover some basic bills in case of an emergency and padding my retirement account. It's worth it to work toward that kind of peace of mind.
Amanda Abella is a millennial financial expert and Amazon best-selling author of Make Money Your Honey. Through her writing and coaching she teaches millennials how they can have a better relationship with work and money. Her work has been featured in Forbes, The Huffington Post, Business Insider and more. She has also spoken on a national level for The Financial Blogger Conference and Femfessionals.