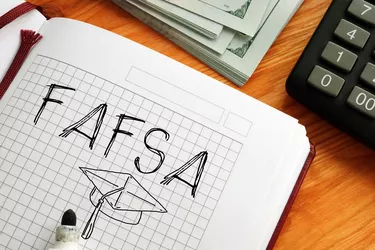 Filling out the Free Application for Federal Student Aid (FAFSA) is the first step to receiving financial aid to pay for college. The FAFSA form helps people afford the cost of attendance (COA) for college or career school. Receiving this financial aid and student loans depends on your eligibility.
Federal Government Uses FAFSA
The U.S. Department of Education uses the FAFSA form to establish the aid eligibility of people who wish to pursue higher education after high school. Financial aid, student loans and work-study are all awarded based on financial need and dependency status. After you graduate from high school, go to the federal student aid website, StudentAid.gov, to apply.
Who Fills Out FAFSA and How?
Eligibility requirements to fill out the FAFSA are that you must be a U.S. citizen and a high school graduate. You can only apply for federal financial aid for higher education through the FAFSA. Eligibility for financial aid is dependent on your financial situation. Higher education refers to colleges or career schools.
Financial need can be established through your parent's tax returns if you are a dependent. If you are independent, like most graduate students, you must use your own tax information. If you or your parents don't have your tax returns, you can use the IRS Data Retrieval Tool to obtain your tax information.
You will also need your Social Security number. In addition, the FAFSA will require you to submit your expected family contribution (EFC). This is the amount of money that your family plans on paying toward your higher education.
The FAFSA simply looks at your financial need. It doesn't evaluate your grades. So, your financial aid award will be based solely on your financial situation. But once you are in college, financial aid is dependent on satisfactory academic progress besides financial need.
Financial aid is only for higher education and will not be awarded directly to you. Instead, it goes to the school.
When you fill out the FAFSA, you will receive a financial student aid identification (FSA ID). You will use the FSA ID to access your federal student aid information.
You can only apply for federal financial aid for higher education through the FAFSA.
There are several types of financial aid available that make up a financial aid package. The Pell Grant is one of several federal grants. It is strictly a grant, and you don't have to pay it back. Other aid programs include federal work-study programs and student loans.
Federal work study is when you are assigned a college or career school job. You work specific hours for a predetermined amount of money.
Student loans are loans with low interest rates that require repayment. These are subsidized loans, not to be confused with unsubsidized loans available outside the FAFSA program.
When and Where to Fill Out FAFSA
To receive your financial aid reward, the FAFSA must be filled out before the academic year begins. The federal deadline for filling out FAFSA is June 30.
Although the FAFSA deadline is in June, state deadlines vary. So you'll need to check with your state to see when the deadline is.
There are several ways to fill out the FAFSA. One way is online. You can go to StudentAid.gov to apply.
Other ways to fill out the FAFSA include downloading the myStudentAid app on iTunes or Google Play. Or you can print out the application and mail it.
How Much Financial Aid Is Available?
Always fill out the FAFSA when your goal is higher education. Even if you're unsure what your COA will be, applying for financial aid is important.
Two factors determine what amount of money you'll receive in financial aid: One is the cost of attendance, and the other is the estimated family contribution. If your EFC is high, you may not be eligible for a lot of financial assistance. But if you have a low EFC, you'll have established your financial situation may warrant financial aid.
Once you have applied, your student aid report (SAR) will let you know your financial aid award. Your college or career school's financial aid office can help you apply or understand your SAR.