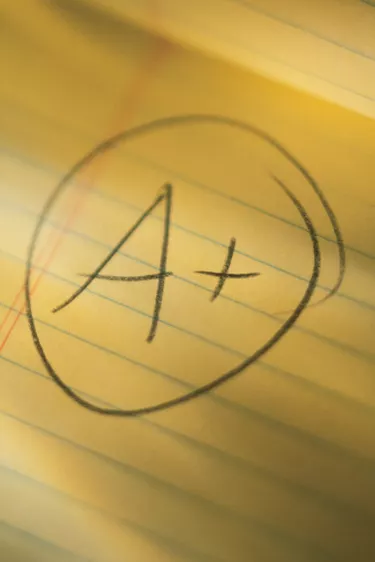 College students must meet satisfactory academic progress to qualify for federal financial aid. To demonstrate satisfactory academic progress you must maintain a 2.0, or C average, throughout your college program. When your average GPA falls below a 2.0, you may initially be put on academic probation and given a specified time frame to increase your GPA. If your GPA stays low, you will lose federal financial aid eligibility, which means you will have to pay for your own coursework or secure private student loans until you pull up your GPA to at least a 2.0.
Step 1
Review your transcripts and verify your current GPA. Determine how many A's and/or B's you will need to pull your current GPA up to at least a 2.0. Use the Raise Your GPA calculator for help.
Step 2
Register for classes as a full-time student. Choose classes needed to complete your major. Choose classes you believe you will be successful with to complete first so that you will have the best chance of pulling up your GPA. You will need to pay for your classes personally or with a private student loan not backed by the federal government.
Step 3
Adhere to reinstatement deadlines and guidelines posted by your school. If your financial aid is reinstated within the same school year of the suspension, your financial should be reinstated in time for you register for the semester immediately following the semester when you succeeded in raising your GPA to at least 2.0. If you are approaching the start of a new academic school year, you will also need to reapply for financial aid by completing the FAFSA online.
Step 4
Schedule an appointment with a financial aid advisor at your college to discuss your reinstatement eligibility. Address any concerns and complete any additional forms. Return any forms and additional documentation to your financial department without delay.
Step 5
Request that your financial aid be reinstated in writing when you have succeeded in raising your GPA to at least a 2.0. Your school's financial aid department may have a specific form you need to complete either in its office or online to complete the reinstatement request. As long as you have met satisfactory academic progress guidelines adopted by your school, your financial aid will be reinstated.
Tip
Carefully review your college or univeristy's satisfactory academic progress policy. If you have mitigating circumstances that lead to your poor academic progress, alert the financial aid office at your school. In some cases, you may be able to regain financial aid eligibility if you can show evidence of mitigating circumstances.
Aim to make all A's and B's following your financial aid suspension. Devote extra time to study and use a planner to manage assignments and their due dates.
Warning
Federal regulations require colleges and universities to deny financial aid assistance to those students who do not demonstrate satisfactory academic progress by maintaining a minimum of a 2.0 GPA. You will not be able reinstate financial aid without meeting GPA requirements. You will have to pay for all college coursework out of your own pocket and with private student loans as long as you fail to meet GPA guidelines.