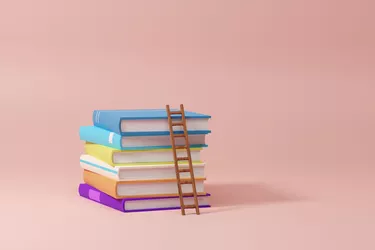 Achieving a college degree requires study, and study requires textbooks. But buying new textbooks can be pricey. Selling textbooks is time-consuming. Luckily, you're not confined to buying your college books these days. You have other options, and they can be much less expensive.
Debt.org reports on a study by the Bureau of Labor Statistics that indicates the cost of college textbooks literally soared from ​1977 to 2020​ by a cringeworthy ​1,041 percent​. That worked out to about ​$1,250​ a year in ​2020​.
Selling your college textbooks after you're finished with them can help recoup some of the cost, but that may or may not be possible. Colleges tend to shake up their curriculums at least a little from year to year. What students needed last semester might not be required this fall.
What's a college student to do? Renting used books can be a viable option, but it doesn't come without some pros and cons.
Most rental sites will charge you a fee over and above the rental price if you return your used books in worse condition than they were when you received them.
To Rent or to Purchase College Textbooks?
Many college books come with "supplemental materials" – think CDs and internet access codes for links – that may or may not come with a rented version, according to Amazon.
You might find some scribbling or handwritten notes included on the pages of your rented textbook, although that might not be a problem if the owner was a student with a perfect 4.0 grade point average and you can trust the insights they've provided. Unfortunately, you have no way of knowing if this is the case.
Some graduates like to keep their textbooks on hand as reference materials after they land that coveted job. But you can most likely find the same information with a quick internet search that requires less effort than thumbing through numerous paper pages.
How and Where to Rent Textbooks
Amazon is likely your most well-known source if you want to save money by renting books. You can rent a book for the entire semester from this site, but rental terms also include short-term options for 30, 60 or 90 days.
You have from 15 to 30 days to return the book for a refund if it turns out to be in unacceptable condition. Otherwise, you can simply return your used books at the end of your rental period. Amazon will flag you with an email to remind you that it's time, and it will extend your rental period if you miss the due date. You'll have to pay for the extension, but you'll have to pay late fees if you don't take one and simply ignore the date. You're also granted a limited period of time during which you can elect to buy the textbook instead of returning it.
Keep in mind that you're not limited to Amazon. Other textbook rental sites include Chegg.com and CampusBooks.com, according to MOSAIEC.org. You can shop for the best deal depending on your personal needs.
Amazon says that you can save up to ​90 percent​ if you rent a used textbook from its site rather than purchase it. Two-day shipping is free if you sign up for Prime Student or you spend more than ​$35​ as of ​2022​. Now for the bad news: You can use a credit card to pay for your rental, but not that Amazon gift card that you received as a gift at graduation. Gift cards don't apply to textbook rentals.
Most rental sites will charge you a fee over and above the rental price if you return your used books in worse condition than they were when you received them.
You might want to skip renting and dealing with textbook prices entirely if your college money is really tight. Look into the Open Education Network. It offers the Open Textbook Library where you can access certain books for free ­­– ​1,056​ of them as of ​July 2022​, according to the University of Minnesota. Visit their website to browse subjects and get an idea of what's available.
You might also skip renting or buying a paper textbook and go with an eTextbook instead. You can actually rent ebooks, too, if you don't want to commit to long-term ownership. Many providers of paper copy rentals offer ebook rentals as well, including Chegg.
Otherwise, check out RedShelf. This retailer's website is dedicated entirely to digital textbooks. The cost savings will be even more significant if you take advantage of technology. And think how easy it will be to return an ebook when you're finished with it.