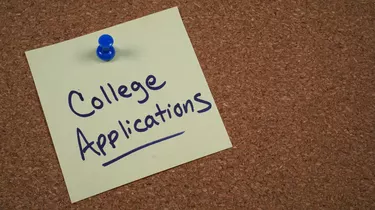 The Common App, or The Common Application, is a single online college application that first-time and transfer applicants can use to apply to more than 950 colleges and universities. Through the Common App platform, students can manage applications to multiple schools, request letters of recommendation and find additional resources for their college application process – all through one, streamlined platform.
How Does The Common App Work?
The Common App is an online platform (commonapp.org) created by a nonprofit membership organization to simplify the college application process and make it more accessible and equitable for applicants.
After creating an account on the Common App platform, you can explore and select the colleges you are interested in attending. From there, you fill out the Common Application, which has two distinct parts: a set of standard questions shared with every college on your list and a set of questions specific to each college you choose.
The platform has separate guidelines and account types for first-time students (first-year students typically applying before their senior year of high school) and transfer students. The Common App process is similar for both applicant groups, but supporting documents and specific steps vary.
Where Does the Common App Get Sent?
Once the application is complete and submitted through the platform, it is electronically distributed to the college admissions offices of the schools on your list. There is no need to print out the application and send it to colleges; the Common Application was designed to be filled out online and submitted just once. The schools you apply to do not see which other schools you have applied to.
The Common App opens on August 1 for the following academic year's applications. Applicants can access the Common App's 24/7, 365-day support team throughout the application and acceptance processes.
The Common App is an online platform (commonapp.org) created by a nonprofit membership organization to simplify the college application process and make it more accessible and equitable for applicants.
The Common Part of the Common App
Common App streamlines the college application process by allowing you to tell your story once and share it with every college you are interested in attending.
This part of the online application is where you fill in personal and family information, demographic details, GPA, academic history, high school transcripts (or college transcripts for transfer students), test scores, extracurricular activities, achievements, employment and financial data.
A Common Application essay prompt will also be used as your personal essay for all of your chosen schools.
You can create your account anytime and then use the Account Rollover feature to move this common information to the current year. The rollover happens on August 1.
In the My Colleges tab, you'll find the specific questions and admissions requirements for all colleges on your list.
In addition to the common portion of the app, some colleges may ask for additional information or have other application requirements for submitting letters of recommendation, standardized test scores or writing supplements.
For each school in your My Colleges tab, through the app, you can invite recommenders to submit a letter of recommendation on your behalf or upload a letter that you have already received from a high school teacher or counselor.
Information entered through the My Colleges tab cannot be rolled over to another year. If you enter school-specific question responses before August 1, when the system rolls over, you will lose your progress.
The dashboard in your Common App helps you manage the application information for the schools in your My Colleges tab. It helps you see outstanding documents and keep on track with application deadlines for individual schools.
Early Admissions and the Common App
Early decision plans bind a student to enrollment in a school, while early action is nonbinding. Make sure to understand the pros and cons of early application – and your responsibilities and application deadlines – before selecting this over regular decision. Speak with your school counselor or inquire with an admissions counselor at your preferred institution.
How Much Does Common App Cost?
Using the Common App application system is free. The cost involved in the college application process is associated with the application fees charged by individual colleges.
To help ensure that these fees don't create a barrier to college application, Common App provides a fee waiver request process to allow eligible applicants to forgo those fees.
As of 2021, Meredith Lombardi, associate director of outreach and education at Common App, reported that over 400 Common App member colleges do not charge an application fee.