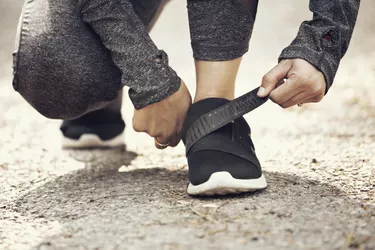 Entrepreneurship has grown since before the pandemic, with out-of-work professionals seeing it as their chance to thrive. But with the SBA reporting more than ​30 million​ small businesses in the U.S. alone, new startups can have a tough time competing. For one mompreneur, adaptive clothing built for those with disabilities has helped her build a fashion empire. If you're thinking about starting a small business, looking for an area where demand exceeds supply can be your key to success.
About the Runway of Dreams
Like many parents, Mindy Scheier struggled to find jeans that would fit her child, an ​8-year-old​ with a rare form of muscular dystrophy called rigid spine. But Scheier wasn't just any mom. She had a ​20-year​ history in the fashion industry as a designer and stylist.
After adapting a pair of jeans for her own child, Scheier began conducting research and realized inclusivity was a real problem in fashion. According to the CDC, ​one in four​ U.S. adults has some type of disability. Some of those disabilities make it tough to find clothing. Scheier's adaptive apparel eventually went mainstream, leading to a partnership with Tommy Hilfiger that landed her brand in Target and Kohl's, among other retailers.
Scheier's success as a startup owner was no accident. Market research quickly reveals that the adaptive apparel market is a hot market, with expected growth in the years to come. Her goal was greater accessibility to fashion for everyone, taking adaptive apparel to the mainstream.
The most successful entrepreneurs do thorough market research before launching. That includes looking at market size, demand for the products or services they'll offer, market saturation, pricing and location. By identifying an underserved market, visionaries can get further than if they were having to compete with more established businesses in the space.
If you're thinking about starting a small business, looking for an area where demand exceeds supply can be your key to success.
Small Business Meets Passion
One advantage Runway of Dreams had over other startups is that it helps a historically underrepresented group. Just as nonprofits often attract interest from a wide range of supporters, a small business with heart can draw the same interest. If you have a passion to start a business with a social mission-oriented purpose, you might quickly find you're drawing the attention of investors and potential business partners long before you hang the "now open" sign.
There are several different ways to get funding for your small business, including angel investing and crowdfunding. Be sure to also look for any grants. As a last resort, you can apply for a low-interest small business loan that will help you get your business going so you can generate the income to pay it back.
In addition to creating a solid product with market demand, Scheier also captured the attention of the media. She did that, in part, because she had an interesting story to tell. Investors and customers alike can be won over by a great founder story, especially if it's clear that the business is a passion project.
The goal of brand storytelling is to elicit an emotional response from the audience. Sure, a customer might be drawn to Runway of Dreams' adaptive apparel. But hearing Scheier's personal story of struggling to find jeans could create a personal connection that turns that first-time customer into a loyal buyer.
Whether you launched a new business in the last year or two or you're just getting started, Scheier's story can serve as a great model of entrepreneurial success. Having a passion for your work and meeting market demand in an area that isn't oversaturated can help boost your business's chances. Consider your audience as you create your brand story to make sure you're connecting with your ideal customer.