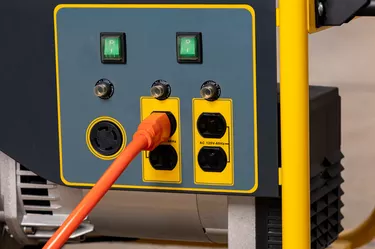 Especially if you live somewhere with frequent severe weather, investing in a house backup generator offers homeowners convenience and peace of mind if a power outage occurs. Whether you want a generator that powers your entire home or just essential appliances, you'll need to consider several costs beyond the new generator itself. For example, you'll include the house generator installation, ongoing fuel costs and regular repairs and maintenance. In addition, you'll want to consider the financial benefits of a generator.
Exploring Home Generator Cost
Your generator cost will depend on whether you buy a portable generator or a whole-house generator and what your power needs are. You can expect to pay a lot more for a home standby generator that powers multiple demanding items such as your water heater, sump pump and air conditioning than an emergency generator for your gadgets, coffee maker and a few lights.
If your power needs require many thousands of watts and you want an instant-on solution, you can opt for whole-house generators that run on propane or natural gas. Depending on the size of generator you need, the average cost can be anywhere from ​$2,000 to over $20,000​. You can check with manufacturers such as Kohler, Generac and Briggs & Stratton for custom pricing based on square footage and your intended use.
On the other hand, portable generators that run on gas can cost less, at around ​$400 to $1,000​. These are smaller and easy to set up in an emergency since you can plug in extension cords to use electrical devices outside. However, if you need to power indoor devices, it's recommended to get a transfer switch installed in your home for safety reasons. In addition, they aren't as powerful and don't perform as well as whole-home generators.
Paying for Generator Installation
If you're buying just a portable generator to power a few things, you might mostly take a DIY method of locating the generator to avoid carbon monoxide risks and following the manual to get it set up. However, you'll likely need to pay an electrician to install a transfer switch for your electrical panel to avoid the risks that come with using extension cords from the generator indoors.
Installing a whole-house generator, on the other hand, can run several thousands of dollars depending on what needs to be done for a safe and functional placement that meets building codes. For example, Generac lists a ​$2,000​ starting generator installation cost plus any extra permits and taxes. You'll also need to consider costs such as any necessary natural gas line installation.
It helps to reach out to a professional who can explain the cost of the generator you want and the installation process plus any extras needed for the type of generator you choose. You can also look into special financing options.
Since the total cost of installing and using a house generator can total well into the thousands, you'll want to consider the personal and financial benefits to decide whether to invest in one.
Looking at Ongoing Generator Costs
Your generator will come with ongoing costs that depend on the fuel type and your usage. For example, gasoline and diesel generators can use many gallons a day, while propane generators need a propane tank. Since fuel prices vary widely, you'll want to research the current rates from various suppliers.
Also, your portable or whole-home generator will need maintenance and possible repairs over its lifetime. Generator maintenance costs can include up to ​$500​ for maintenance checks once or twice a year. If you need repairs not covered by your warranty, the national average runs ​$260​, but repair costs can reach ​$600​ or more for major fixes for whole-home generators.
Weighing Generator Costs and Benefits
In the end, the total cost of installing and using a generator for larger homes can total well into the thousands. Therefore, you'll want to carefully consider the personal and financial benefits to decide whether to invest in one.
The main personal benefit is having backup power during a power outage. This especially comes in handy if you experience a hurricane, blizzard or other disaster or you live somewhere remote. For example, you might use the generator to stay warm or cool, operate medical equipment, cook or work from home in an emergency.
In addition, consider the potential financial benefits both to your home's value and your ongoing costs. A whole-home generator provides the most benefits, such as up to a ​five percent​ boost in your property value, potential savings on your homeowners insurance and fewer expenses for temporary housing and lost food. Using a portable generator for power generation, however, can still help your home be more livable and potentially save on costs.