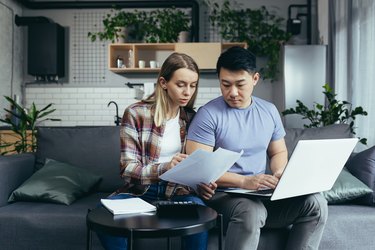 From the same company offering QuickBooks, TurboTax and Credit Karma, Intuit Mint provides numerous tools for budgeting, credit monitoring and investing. The website and mobile app connect with your existing financial institutions to pull transaction data so you can better monitor your financial health. Even better, you can access key features for free. Here's what you should know about getting started with this popular personal finance app and using its tools.
How Does Intuit Mint Work?
Intuit Mint's account linking capabilities play a major role in how the app works and particularly save you the time and hassle associated with keeping tabs on multiple banking apps. Compatible with many financial institutions, the service lets you link bank accounts, loans, credit card accounts and even properties. You'll be able to track every dollar that goes in and out of linked financial accounts, and you won't have to worry about adding this data yourself.
Mint categorizes transactions automatically but allows you to personalize them as needed. For example, your linked Apple Card transactions would show under the card's entry in "Credit Cards" along with the overall account balance. If you later paid your cell phone bill with that card, Mint would classify it as a bill or utility for easy identification. However, you can change the classification name if you ever feel it's not fitting or specific enough for your needs.
Once configured with your financial data, Mint can show advice through MintSights and provide valuable features for financial planning, expense tracking and credit management. You're able to see your bottom line quickly as well as dive into the details of your spending.
Once configured with your financial data, Mint can show advice through MintSights and provide valuable features for financial planning, expense tracking and credit management.
Exploring the Money Management Features
As an alternative to YNAB, Personal Capital and Quicken, Mint contains a wide array of money management features such as:
​Trends​: You can see your current assets and liabilities along with your cash flow, net worth, income and spending habits over time. The app often uses charts and graphs.
​Credit score​: Once you provide some additional details, you'll see your free credit score. In addition, you'll get a basic credit report overview and account characteristics contributing to the score.

​Bill management​: You can keep tabs on your monthly bill payments as well as see opportunities to negotiate for lower costs.
​Budget planner​: Since you need a budget for good financial management, Mint creates one based on your monthly transactions. You use this budgeting tool to enter new categories and change amounts as needed.
​Financial goals​: This feature lets you specify short- to long-term savings goals, such as paying off debt, saving for retirement or buying a home/car. You'll then get helpful tips for estimating how much and how long to invest for that purpose.
​Investment tracking​: You can link a brokerage account to monitor your portfolio performance and detect associated fees.
​Recommendations for financial products​: Mint uses your credit score, account data and other financial information to recommend products that could help you save on interest or provide financing for one of your goals. For example, you can find investment accounts, home and car loans and promotional credit card offers.
​Notifications​: You can get alerts for questionable transactions, excess spending, account fees and bill reminders.
Signing Up for Intuit Mint
You can sign up by visiting Mint.com or downloading the iOS or Android Mint app through your phone's app store. As part of the account setup process, you'll get asked to connect financial accounts and log in with your credentials. You can come back at any time to add other accounts. You can also set up additional security through multifactor authentication.
Signing up for Mint will give you access to the free service with most money management features enabled. However, you can upgrade to ad-free and premium options through the budgeting app's settings. The ad-free option costs ​$0.99 monthly​. The ad-free premium service costs ​$4.99 monthly​ and enables features such as subscription management, monthly spending projections, daily updates and advice on growing your savings.