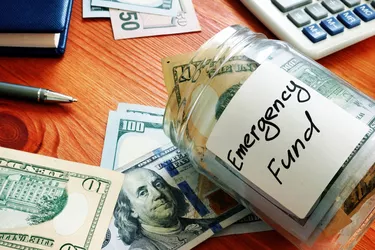 If you want the best chance of reaching your financial goals, you'll need a strong grasp of personal finance. This broad financial management concept involves everything from earning and spending your money to protecting and investing it based on your financial plans. Focusing on individuals, personal finance contrasts with corporate finance which relates to how businesses get funding, choose a capital structure and manage money. Take a look at the many different personal finance areas to improve your financial literacy and get some tips along the way.
Budgeting and Spending Money
An important step toward reaching financial security is money management through the use of a budget. You first gather info about your sources of income and typical monthly expenses to better understand your cash flow. The Massachusetts Institute of Technology suggests using the simple ​50-20-30​ budgeting method and allocating ​50 percent​ to essentials, ​20 percent​ to savings and ​30 percent​ to discretionary purchases like entertainment. You can also use budgeting apps that connect to your bank accounts and track your cash flow more easily.
As you pay bills, you'll want to try to avoid spending more than you earn since this puts you at risk of increasing your liabilities. Making big financial decisions, like buying a home or car, will require making sure you've got enough room in your budget for the new monthly expense and, often, money saved for a down payment too. Tracking your income and expenses and adjusting when needed will be key to your financial health.
Whether you've got a credit card, mortgage, student loan or car loan, you'll need to make sure you meet the repayment terms to keep your personal finances in good shape. If you miss a payment, this information goes on your credit report, and your credit score gets negatively affected accordingly. The Federal Trade Commission warns that having poor credit can cause lenders to either charge you higher rates or deny credit later, so you'll want to take steps to reduce that risk.
You'll want to consider that the credit score calculation considers how much you owe, how long you've had your accounts, whether you're current, which account types you have and how many credit inquiries you make, explains myFICO. Therefore, you'll want to always pay on time, avoid taking on too much credit card debt and only apply for needed accounts. You should also keep on top of your credit score and credit report regularly to spot issues quickly.
This broad financial management concept involves everything from earning and spending your money to protecting and investing it based on your financial plans.
Saving and Investing Money
Personal finance also includes saving and investing leftover cash for future goals and preferably earning some return. For example, you might have a short-term goal to open a savings account for an emergency fund you can fall back on if you face an unexpected expense or job loss. Alternatively, you might open a certificate of deposit to earn a higher interest rate on a lump-sum amount toward a home down payment.
You can also grow your money through investment opportunities such as getting bonds, stocks and mutual funds through a brokerage. The U.S. Securities and Exchange Commission advises that such investments can offer a better return than options like savings accounts, but you'll need to consider the risk involved that you could lose the invested money.
Personal finance also includes planning for long-term goals. For example, income tax planning can help cut your tax liability this year and in future years. Retirement planning involves assessing estimated expenses and determining how to use Social Security payments and retirement accounts like an IRA to fund your cost of living. Estate planning, on the other hand, involves determining what to do with your assets after you pass away and can involve steps like drafting a will or power of attorney and making funeral arrangements.
Using Insurance for Financial Protection
Since incidents even outside your control can negatively affect your personal finances, the Consumer Financial Protection Bureau recommends insurance policies to lower your chances of losing significant money. Rather than needing to pay the full cost, having insurance often means just incurring a deductible or paying an amount shared with the insurer. This is the case with health insurance, car insurance and homeowners insurance. Life insurance, on the other hand, provides an amount to a beneficiary when the policyholder passes away.