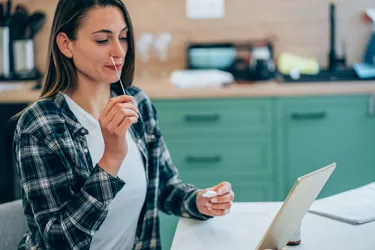 You may not be feeling well and want to check yourself for coronavirus. Or you may need a negative COVID test to attend an event. Either way, you want to find out about your health status quickly. There is a COVID-19 test that gives you fast test results with the accuracy of central lab technology. That's Cue.
Cue has a COVID-19 test that is part of the Cue Health monitoring system. One of the diagnostic tests offered by Cue Health Inc. is a COVID-19 test that is a point-of-care diagnostic for home use that gives rapid results in 20 minutes. There are two Cue tests available. One is sold over the counter (OTC), and the other is a professional version. No training is required to use the Cue COVID-19 test.
A Cue test can be used when you need to know your COVID-19 status quickly. You can use it whether you have symptoms or not. Children age 2 and up, as well as adults, can you this test.
Currently, the Cue COVID-19 test is one of only six rapid tests that has been approved under an emergency use authorization by the U.S. Food and Drug Administration (FDA).
This product has not been FDA cleared or approved but has been authorized by the FDA under Emergency Use Authorization (EUA).
When Cue was compared with the SARS-CoV-2 reference test, there was 95.7 percent positive agreement between the two tests.
You don't need to mix fluids; the Cue home test is self-contained. You also don't have to follow complex procedures. And even though Cue is a molecular COVID-19 test, you don't have to send it to a laboratory to receive results. It also has built-in safety mechanisms.
The Cue test is single-use. The test contains a COVID-19 cartridge and a Cue sample wand. It runs on a Cue reader, which sends the results to your mobile smart device. You can use an iPhone or Android. You must have Bluetooth and Wi-Fi.
To read the results, you must download the HIPAA-compliant Cue Health app. This is available from the Apple app store or Google Play store. Set up your Cue account before taking the test.
When taking a sample, make sure all packaging is intact. Use the same Cue sample wand to swab each nostril. And follow the directions.
Open the app on iPhone or Android

Insert the Cue COVID-19 test cartridge into the reader (the cartridge needs to warm)
Insert the tip of the sample wand up into the nostril and take a nasal swab
Keep gentle pressure on the outer wall of the nostril
Rotate the wand against the nostril wall five times
Repeat process using the same wand with the other nostril
Insert the nasal sample into the test cartridge (already in reader) within five minutes of collection
You'll need to have your mobile device's Bluetooth turned on. Make sure your mobile smart device is next to the cartridge while you wait. You will know if you have a negative or positive result in 20 minutes.
Cost of Cue COVID-19 Test
The Cue test reader is the biggest cost. The price is a one-time $249. This doesn't include the COVID-19 tests. And because the Cue reader is a medical device, it can't be returned or exchanged.
A Cue COVID-19 test three-pack is $195. There is also a package of ten available for $617.50. Tests include the sample wand and test cartridge.
You can purchase a Cue membership that discounts the reader and gives you 20 percent off test purchases.
In a study conducted by the Mayo Clinic, 300 participants were tested. Samples were taken using the Cue test and a central laboratory reference test. When Cue was compared with the SARS-CoV-2 reference test, there was 95.7 percent positive agreement between the two tests. The negative agreement was 98.4 percent.
Overall, the study found that Cue was lab quality and demonstrated a good negative and positive test agreement with the central laboratory sars-cov-2 tests.
One of the reasons COVID-19 caused a pandemic is because it is transmitted easily and quickly. A person is most contagious right before or at the onset of symptoms. It is estimated that 30 to 40 percent of infections are caused by people who are not showing symptoms or are in the early stages.
Because it is contagious so early, it's crucial to test and receive a response quickly. If you've been exposed to coronavirus, the Cue test is a fast way to determine your health status.