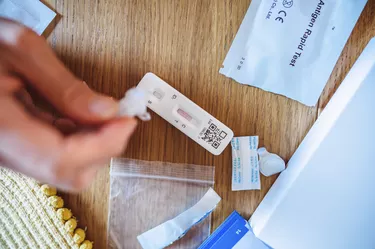 Since the pandemic started, people have been concerned about testing themselves for the coronavirus. With the lockdown over, people are back to being in close contact. That means that the necessity of testing has increased.
COVID-19 tests have been available at no charge, but will that continue? In 2021, there were 31.1 million Americans without health insurance. Will these individuals still have free accessibility to COVID-19 tests?
Uninsured May Lose Free Testing
During the pandemic, the U.S. Department of Health and Human Services (HHS) partnered with retail companies and pharmacies to facilitate speedy testing for Americans. They established more than 10,000 free community-based pharmacy testing sites around the country.
These various companies were able to coordinate with state and local governments to provide less invasive and more convenient testing. They also wanted to expand free testing to those Americans that were under-tested and socially vulnerable. But expiring federal COVID-19 programs may interrupt funding. This affects the uninsured.
Medicare Provides Free OTC COVID-19 Tests
For the first time, Medicare cover an over-the-counter (OTC) test at no cost. Medicare Advantage plans offer this benefit. Medicare beneficiaries with part B are also eligible for the free COVID-19 test benefit.
Payment are made from Medicare to the pharmacies and other participating retailers. As a result, Medicare beneficiaries can obtain tests at no cost. Tests that are covered must be approved or authorized by the U.S. Food and Drug Administration (FDA).
Medicare will pay for up to eight OTC COVID-19 tests per month. Recipients have been able to take advantage of this plan since spring 2022.
Medicaid Recipients Receive COVID-19 Tests
The American Rescue Plan Act (ARPA) requires that State Medicaid and Children's Health Insurance Program (CHIP) must cover FDA authorized home COVID-19 tests. There is no cost-sharing. Rules vary by state so check with your state Medicaid office.
Private Insurance Pays for Tests
As of Jan. 15, 2022, individuals with private insurance can purchase online or from a pharmacy an OTC COVID-19 test and have it covered by their insurance. The test must be FDA authorized or approved, and it's important to avoid a fake home COVID test.
You will either be able to receive the test at no charge at the point of sale or you will have to get reimbursement from the insurance carrier if you. The cost limit per test is up to $12. Keep a receipt to submit the claim.
COVID-19 test have been available at no charge, but will that continue?
Federal Government Provides Home Test Kits
The U.S. federal government is providing free FDA authorized coronavirus home test kits. No credit card or bank account number is required to receive these tests, and shipping is free via the United States Postal Service. You are eligible for eight rapid tests.
The only information you must supply is your name, email address and mailing address. You'll receive an order confirmation email to you. If any other website or phone solicitation requires more information than this, it's a scam.
When to Take COVID-19 Test
The Centers for Disease Control and Prevention (CDC) recommends a COVID-19 test if you have been in close contact with individuals who have the coronavirus. You should test after five days of exposure.
If you are not up to date with a COVID-19 vaccine, you should be tested if you plan a trip. If you've been traveling overseas, you must test three to five days after returning to the U.S.
Use self-testing when you can. If you cannot self-test, visit a community testing site or call your local health department.