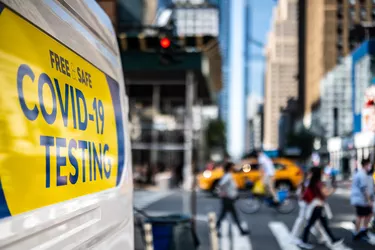 Throughout the pandemic, there has been high demand for COVID-19 testing. As a result, COVID-19 test sites have become common throughout the U.S. That said, it's the Wild West when it comes to legitimate testing sites. Unscrupulous individuals and companies are preying on people's needs and fears, so it's essential you verify a testing site is real before you spend money or time there.
Fake COVID-19 Test Sites Make Money
With many employers or venues requiring a negative COVID test, the need for testing sites has increased. Mobile sites and tents have become a convenient way to obtain that required negative test result. But they're also a get-rich-quick way for scammers to dupe people.
Some sites are charging, taking the samples and not conducting the tests. These sites go through the motions, but you never hear from them again. In other words, you won't get any results from these test sites, despite giving a sample and paying.
Fake sites don't take insurance, forcing the individual to pay out of pocket. They must pay with cash or with a credit card. The price can run the gambit from $20 to $1,419, according to a Peterson Center on Healthcare and Kaiser Family Foundation study. That's a lot of potential money spent for not performing the test. Furthermore, the amount of time you could have to wait for test results that aren't coming might be long, and this could mean lost income if you have to stay out of work during that time.
Fraud and Fake Test Sites
There are fake test sites that are after your personal information. Legitimate testing sites don't ask for personal information like Social Security numbers or birthdays. But fake sites ask for such information. These scammers are out to steal your identity or run up your credit card bill.
Fake COVID-19 Test Site Set-Up
These fake sites work out of a van or set up a pop-up tent. And although there are legitimate sites that also do this, the fake sites are usually gone the next day.
They look authentic. These non-legitimate sites have people wearing hazmat suits and the tests are realistic looking. So, on the surface, it's hard to tell if they're legitimate. But there are ways.
Be Aware of Signage and Written Material
Fake test sites often have legitimate-looking signs. But something might be off, such as misspelled words. A test site should have an affiliation with a healthcare organization. A fake site won't have signage linking them to legitimate sources, like hospitals, doctors' offices or government entities. Or if they do, it's not quite the correct logo or the organization's name is not quite right.
Look closely at all the written material and examine awkward wording, or pause if you're asked to give personal information. If a free test is offered to a Medicare recipient, beware. This is especially true if they need both personal information and a Medicare card.
High Fees and No Insurance
With very few exceptions, legitimate COVID-19 test sites accept health insurance. But fake sites don't take insurance.
Some non-legitimate sites will only take cash. This is a big red flag. Credit cards are also accepted at many fake sites. But often, this is a way of stealing your card information.
Besides not taking insurance, hefty fees are charged. They're usually far above what the norm is. Some sites will offer extra services for additional fees. But unfortunately, the chances of seeing these test results are slim. By the time you realize you haven't received them, the site employees have packed up and are gone.
Finding a Legitimate COVID-19 Test Site
With legitimate testing sites in short supply, ensure you're using a reliable source when you hear about a new one. Don't just go with what's on your neighborhood social media group. You don't know who posted it, and it could be a scammer. When in doubt, call the health department.
Make sure that you call your medical provider's office or health department for a referral if you need a test. And if you're not sure the site is legit, then alert the authorities.