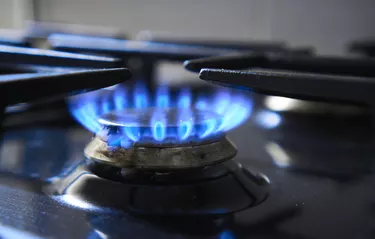 If you've looked for a home recently, you've likely seen a gas stove as a selling point. Gas stoves outperform their electric counterparts when it comes to efficiency, making it seem as though they might be better for the environment. But a new study shows that despite their widespread appeal, gas stoves aren't quite as good for the environment as once thought.
Electric ranges were once a staple of every kitchen, but in recent years, gas stoves have grown in popularity. In fact, more than ​one-third​ of U.S. households have gas stovetops. That's a solid chunk, considering residential natural gas use makes up only ​23 percent​ of all U.S. residential energy consumption.
Homeowners have shown a preference for gas cooking in recent years, leading many to see it as a way to boost home value. Although nicer gas stovetops will cost ​$3,000​ or more, the upgrade could also boost your home resale value, potentially making it a great investment.
Gas Stovetops and Environmental Concerns
Before you upgrade your cooktop, though, there's a new study that might make electric stoves more appealing. Stanford researchers found that gas stoves emit methane equal to the carbon monoxide emissions of ​500,000​ gas-powered cars. The Environmental Protection Agency plans to begin tracking those stove emissions this year.
Even if you rarely cook, your gas burners still contribute to climate change. The study found that even when off, gas stovetops leak methane into the environment. In fact, you're contributing more greenhouse gases when your stove is off, especially if you use the vent built into most range hoods when you're cooking.
Gas Stoves and Safety Concerns
Environmental concerns are only one piece of the puzzle. Gas appliances that emit high concentrations of methane are also a safety concern. Those emissions are going into your home, after all, which means you're breathing them.
At play is the discovery that gas cooktops emit high levels of nitrogen dioxide, which can irritate airways and aggravate existing respiratory conditions like asthma. Prolonged nitrogen dioxide exposure might lead to the development of asthma and other issues.
If you already have a gas stove, you'll understandably be hesitant to switch to electric. The energy efficiency and enhanced temperature control make them popular, which could help sell your home someday. That means an increase in your home value.
However, some municipalities in California and New York have taken action against gas stoves. Those municipalities have banned construction crews from installing gas cooktops in new homes. This type of messaging could make electric appliances more appealing to future homebuyers.
Reducing Gas Stove Impact
For those who already have a gas stove, there are some ways to reduce that impact. One is to use ventilation. You can improve your indoor air quality and reduce impact while using gas by using the vent on your gas range. You can also invest in air purification and regularly open your windows to air your home out.
If you're in the market for a new home, or a new stove, go small. Larger ovens with gas cooktops tend to emit more methane than smaller ones. The size of your kitchen also comes into play. A larger kitchen with plenty of ventilation won't see the impact that a small kitchen with gas hookups sees.
As the EPA works to learn more about the nitrogen oxides and methane emissions produced by gas stovetops, it's important that consumers be aware. By using your stove's range and ventilating your kitchen, you might be able to reduce some of that impact and improve the air quality in your home without replacing your stove.