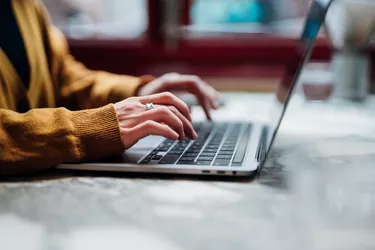 A Master of Fine Arts degree, or MFA, is a costly degree that may or may not be worth it, depending on the particular career in the arts that you have your eye on. Various MFA programs focus on different disciplines, from acting to sculpting to writing.
An MFA is a popular pursuit. The Washington Post indicates that the number of MFA students increases each year.
From a more immediate dollars-and-cents perspective, you'll almost certainly stand out from the pack when you submit your work for possible publication and pay.
An MFA is typically a two-year commitment, depending on whether you tackle a part-time program or a full-time program. The curriculum provides you with an opportunity to hone your craft under the guidance of professionals, and the focus tends to be intense. You won't achieve top honors through test scores, but rather based on the quality of the work you produce.
This is a graduate degree, so you must have already earned a college degree for acceptance.
The Artists Network puts the cost of a two-year program at ​more than $70,000​. This can ratchet up to well ​over $100,000​ at an Ivy League school. The Pennsylvania Academy of Fine Arts will want ​$39,906​ from you for each year, plus other fees, for the 2021-22 school year. It jumps to ​$65,116​ a year, plus fees, if you'd prefer to attend the Columbia University School of the Arts.
Most universities offer financial aid. You might also qualify for paid work-study positions or graduate assistantships. Public schools cost less, but they almost always have residency requirements before they'll give you a break on tuition and fees.
So what do you get for all this money? It might be the only opportunity you'll have in life to focus hard and solely on your writing. You'll most likely learn a great deal from an abundance of harsh criticism of your work from both colleagues and instructors, so yes, it can make you a far better writer.
You'll qualify to teach writing at the college level, and you'll have the opportunity to form long-term relationships with others in your profession, including both classmates and instructors. Contacts can be key in the writing business, so this might give you an advantage in a competitive field – not to mention moral support when you need it.
From a more immediate dollars-and-cents perspective, you'll almost certainly stand out from the pack when you submit your work for possible publication and pay. Publishers in all fields are avalanched when word gets out that they're buying copy or manuscripts. That MFA after your name will make you stand out, and your work may well be given first consideration over others.
The Downsides of Pursuing an MFA
An MFA is going to cost you a lot of money, and you can hone your craft on your own with sufficient discipline. Maybe you want to write novels, or your career goal is creative writing or nonfiction writing. In any case, many publishers will be glad to tell you why they're not buying a particular piece of your work. It might be a simple line or two, such as "This strays off topic toward the end," or "I just don't feel any compassion for these characters." You can take it to heart and do better next time…without spending $100,000. The outcome might be the same.
And as a practical matter, the vast majority of writers don't appear on the list of world's wealthiest people. It's not a given that you'll make an outlandish fortune because of that MFA degree. Not everyone is the next Dean Koontz. You should be able to achieve and maintain a decent career with discipline and a dedication to fine-tuning your work. As for using your MFA to secure a teaching position, this isn't likely to make you rich, either. Pay tends to be modest, and competition in this field is fierce.
U.S. News & World Report reported in 2018 that the average salary of an MFA-holder was ​$58,000 annually​, so it could take you a very long time to pay off that student loan debt.