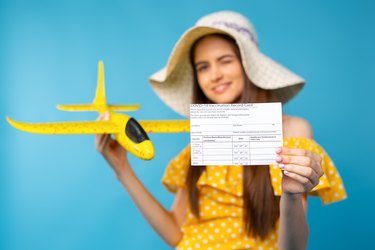 The hottest accessory in the world right now is a completed COVID vaccine card. More than 100 million Americans already have at least one shot down, and the more who complete the course of vaccines, the closer we are to something like normal life again. That small piece of stiff paper makes for a great selfie (even if privacy experts recommend against it); it may be worth not carrying it everywhere, though.
CBS ​Moneywatch​ reporter Megan Cerullo has rounded up a thorough list of ways to keep your vaccine card from getting lost, damaged, or otherwise rendered unhelpful. First things first — take it out of your wallet and put it somewhere safe at home. If you need the data, snap a photo on your smartphone, which you can easily share or reference if need be. Second, you may have heard that certain office supply stores are offering free lamination for completed vaccine cards. It may be a good idea to avoid sealing it up in plastic, in case it's needed to record booster shots later. Finally, if you do lose the card, no need to panic — there are ways of getting it replaced.
While paper is an excellent analog solution, developers are also working on dynamic vaccine passports that go on your phone, much like an electronic wallet or airplane ticket (remember those?). Approved apps will most likely roll out in partnership with individual states, such as New York's Excelsior Pass. Every day that we get our shots is another day closer to flashing a QR code on our phone screens to prove we're all clear and finally just going about our lives.