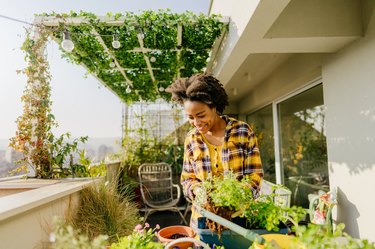 If locking down and staying home during the COVID-19 pandemic has taught us anything, it's what we really want, like, and need about our living spaces. Maybe self-quarantining over the past year has showed you that you really need green space, or a dishwasher, or even just better soundproofing. You're not alone — millions of Americans took a renewed look at their priorities, and we've got an idea of what comes out on top.
The real estate site Zumper recently released some survey data that tracks our top apartment amenities nationwide. More than anything else, we want to be outside, or at least be able to access it a little. Whether it's a balcony, a garden, a pool, or even a roof deck, we're searching more ardently than ever for something that breaks us out of our four walls. Inside, we're really keen on some stalwarts — is there ever enough storage space? — but after increasing frustration with porch pirates (especially the viral ones), we're also pretty interested in package services that protect your mail.
We're willing to pay extra for the good stuff too: An in-unit washer and dryer, for instance, might add an average of $170 to an apartment listing, while garage parking hikes up your rent about $150. Given how literally insane buying a home is right now, it's no wonder we're more willing to brave the rental market. If we're not investing in our property, at the very least, we're determined now to get exactly what we want.