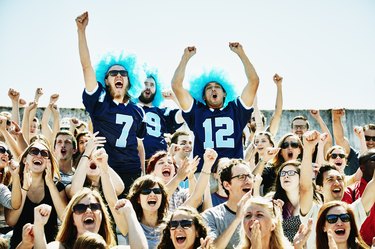 Thanks to the massive rollout of COVID-19 vaccines, this coming fall might actually look a little normal in lots of ways. With the right collective action, we could, for instance, look forward to football games and tailgating parties and everything else we enjoy about college sports. And for Airbnb hosts, that's a lucrative opportunity.
Economists at the University of California San Diego have just published a paper confirming what every out-of-town guest may have suspected during away games: that locals are gouging rival sports fans on price. Airbnb hosts set their own rates, of course, and the higher their prices, the less likely they might be to take in a guest. Football game weekends can account for 60 percent of an Airbnb host's income during the second half of the year, so there's every incentive to still be reasonable — and yet, many still do it, which can lose them nearly 80 percent of their rental income.
At the beginning of April, the Centers for Disease Control and Prevention announced that adults who are fully vaccinated (e.g., two weeks out from their final shot) can easily travel again. It's still important to keep wearing face masks and respect social distancing measures in public, but other countries are modeling how post-COVID life could look once we achieve a baseline vaccination rate. Keep paying attention to what your local public health officials recommend… and if you're planning on traveling to support your team this fall, maybe start saving for that Airbnb now.