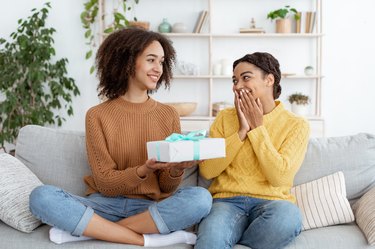 No matter what the occasion, we all want one thing from giving a present: for the gift to go over well. Whether we've spent hours or a big chunk of change on it, we're eager for the recipient to understand how much we value them. It's absolutely the thought that counts — until we start worrying about everyone else.
Researchers at Carnegie Mellon University have just released a study on one big way we wind up spending too much money for special occasions. People are generous, as a whole, but we're also competitive. When we start to worry too much about whether our gift will look good compared to everyone else, we tend to go big or go home.
"[I]f I gave one bottle of cheap wine as a gift, but another person gave a bottle of expensive wine, I would incorrectly assume that the recipient would appreciate the gesture of giving the expensive bottle more than mine," said coauthor Jeff Galak. "As a result of this misconception, when givers know beforehand others will be giving gifts, they are more likely to spend additional money upgrading their gifts or even to skip the gift-giving occasion altogether."
There are, in fact, better ways than others to pick out a present for someone. And while there is an evolutionary purpose to craving or bestowing luxury goods (really, it's true), it's also true that money can't buy everything. Keep your recipient's tastes and desires front and center, and at the end of the day, they'll appreciate your thoughtfulness more than anything else.