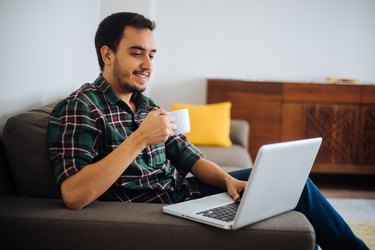 At least 30 million Americans have filed for unemployment for the first time since the novel coronavirus COVID-19 shut down the country. Normally, unemployment insurance is for workers who, through no fault of their own, have lost their full-time jobs, thanks to events like a mass layoff or departmental restructuring. Now that so many workers are staying home to protect their communities, the definition of who can apply for unemployment has changed, thanks in large part to a federal law, the CARES Act of 2020.
Because of the pandemic, this includes both W-2 workers and the self-employed, freelancers, gig workers, and 1099-independent contractors, as well as those who qualify for Pandemic Unemployment Assistance. Potential PUA claimants include those who are diagnosed with, experiencing symptoms of, or affected directly by COVID-19. Some examples might be parents of children whose schools have been shut down, or an employee who can't reach their workplace because of quarantine restrictions. Visit the federal Department of Labor's FAQ on unemployment and PUA for overall details, but since the state in which you worked is in charge of organizing these benefits, seek out guidance from state-run authorities and websites.
To file an unemployment claim, or to recertify your unemployment, virtually all states prefer that you log onto an online claims management system. If you're not sure where your state's Department of Labor or its equivalent is, visit the U.S. Department of Labor's unemployment FAQ or go to the federal government's Career OneStop Unemployment Benefits Finder, choose your state from the drop-down menu, and follow the appropriate links.
You may need to create an account with the agency, if you don't already have one. Your state's unemployment website should walk you through the individual steps to complete the process or to retrieve login credentials you've forgotten, but it can help to prepare beforehand. All states will ask for documents and contact information to prove that you're you. Some examples include:
Your Social Security Number
Your driver's license or Motor Vehicle ID card number (if you have either one)
Your complete mailing address and zip code
A working phone number
Your Alien Registration card number (if you are not a U.S. Citizen and have a card)
Names and addresses of all your employers for the last 18 months, including those in other states
Employer Registration Number or Federal Employer Identification Number (FEIN) of your most recent employer (FEIN is on your W-2 forms)
Your copies of forms SF8 and SF50, if you were a federal employee
Your most recent separation form (DD 214), for military service
Confirm what your state requires on its unemployment website. Also be sure you understand the process going forward, including how often you need to certify your unemployment, whether your state requires proof that you're seeking out work, and whether you need to register separately to receive PUA or other unemployment assistance extensions. If you get lost, every state's unemployment website should have a FAQ or a search bar to help you out, or you can call a human with the phone numbers provided. Call volume and website usage are high right now, but keep at it — you can get the help you need.