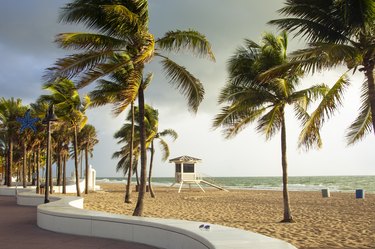 Figuring out how to get your unemployment insurance benefits in the United States has always been a labyrinth, but with record numbers of Americans out of work due to the COVID-19 pandemic outbreak, it all seems more confusing and frustrating than ever. Here are some quick links and resources to make finding your way to the money you're eligible for easier.
If you are an employer, visit the Florida Department of Economic Opportunity's Reemployment Assistance hub for employers for more information on how employees claiming unemployment affect your business.
How to claim unemployment
If you're having trouble finding up-to-date information on unemployment benefits in Florida, make sure you're looking for Reemployment Assistance instead. Visit floridajobs.org to find out more. Because of the pandemic, eligible claimants include W-2 workers and self-employed, independent contractors, certain nonprofit employees, gig economy workers, those who have exhausted other unemployment insurance benefits, and those who may not have sufficient work history to qualify for regular state Reemployment Assistance benefits. Check out the COVID resource hub for coronavirus-specific information.
Visit the File a Claim website to get started. The site will take you step by step through the process. Floridians are eligible for benefits during the first week of unemployment, rather than the first week after your last day of work. You may experience delays applying for unemployment because of volume, but keep at it.
In addition to unemployment payments from the state, the federal government will distribute $600 alongside each disbursal through July 25, 2020. Benefits will last for 26 weeks. Gov. Ron DeSantis has suspended the biweekly "actively seeking work" reporting requirement, so you don't need to recertify your weeks biweekly in order to get your benefits. An additional 13 weeks of benefits are available through the federal CARES Act, but only through July 31, 2020.
Who is eligible for Pandemic Unemployment Assistance (PUA)
Those who don't qualify for regular unemployment benefits can still get PUA if they are diagnosed with, experiencing symptoms of, or affected directly by COVID-19, including:
A member of the individual's household has been diagnosed with COVID-19
The individual is providing care for a family member or member of the household who has been diagnosed with COVID-19
A child or other person in the household for which the individual has primary caregiving responsibility is unable to attend school or another facility is closed as a direct result of the COVID-19 emergency, and the school or care is required for the individual to work
The individual is unable to reach the place of employment because of a COVID-19 quarantine or because a healthcare professional has advised him or her to self-quarantine due to COVID-19 concerns
The individual was scheduled to commence employment and does not have a job or is unable to reach the job as a direct result of COVID-19
The individual has become the breadwinner or major support for a household because the head of the household has died as a direct result of COVID-19
The individual has quit his/her job or was laid off as a direct result of COVID-19
The individual's place of employment is closed as a direct result of COVID-19