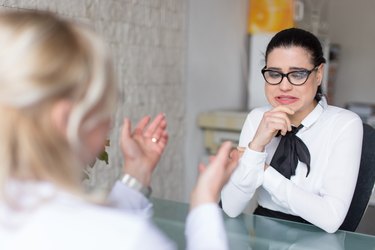 One of the fundamental rules of any job interview or hiring process is that whoever mentions salary first loses. That is to say, if the person with the hiring power pins you down on a number, that could be the easiest way for your future employer to dismiss or even lowball you right from the start. It doesn't have to be that way, though, thanks to some handy scripts you can deploy.
Susana Benavidez is a computer scientist at Stanford University, and last week, she posted a succinct tweet flipping the entire dynamic of interviewer and prospective employee on its head. "I wish recruiters stopped asking, "What is your expected salary?'" she wrote. "My response: 'I gauge how serious a [company] is about hiring me based on what they provide. I look forward to hearing what they are offering. You can share your range and I'll let you know if I'd continue this conversation."
It's an excellent reminder that interviewing for a job is a two-way street, and it places responsibility for offering fair compensation back where it belongs. There are lots of good reasons for this, including how salary questions can reinforce inequality or even break the law. It might seem like it's harder and harder to land an interview at all these days, but you can prepare by knowing your rights — and your worth. Check out Benavidez's blog for more advice, plus discussions about being a woman of color in STEM. If you're looking for more great scripts for turning around awkward interview questions, Emilie Aries has a great rundown for the recruitment company Ladders.