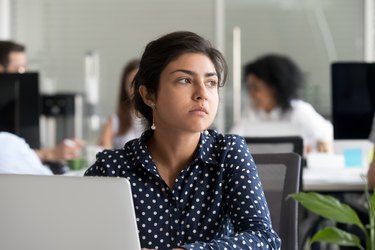 There's a strong likelihood that you may have imagined a hand-to-mouth existence during your early to mid-20s, but after that, surely your career will have picked up enough to help you build wealth. There's an equally strong likelihood that if you're reading this, it hasn't happened for you, even if you've been working hard and hustling like a beast. More Americans than ever are living paycheck to paycheck, and while the statistics vary, the range is both staggering and worrisome.
A viral hashtag on Twitter this week, #WithMyNextPaycheckIWill, ushered in yet another bleak, laugh-so-you-don't cry conversation about money and millennials. As Marketwatch's Nicole Lyn Pesce reports, the hashtag speaks to some hard truths about who's making it in the world, even as more and more millennials inch ever closer to middle age. By income bracket, perhaps half of earners who make $50,000 per year go paycheck to paycheck. For employees overall, the figure could be nearly 75 percent.
In this case, it's not statistically likely that so many driven workers in their prime would simply be bad at their jobs. Instead, this is a systemic issue decades in the making. Economist Mark Blyth, speaking on Adam Conover's Factually! podcast recently, explains in plain English the entire economic crisis for wage-earners in about six minutes, starting at around 5:10. It's true that there are multitudes of little and big moves you can make to both stretch out your dollars and increase your own hold on your income — but if you've got strong opinions about the system at work (or rather not), get in touch with your elected officials.