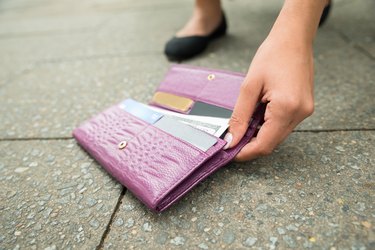 Even if you've never lost your wallet, you can probably relate to the fear it evokes. Your ID, your credit cards, your transit pass, your favorite fortune cookie fortunes, not to mention any and all cash — gone! Still, you might get lucky, which looks significantly different from what you'd think.
American and Swiss researchers have just released a study testing out how people who find lost wallets decide to return them. More than 17,000 wallets were dispatched across 40 countries, containing either no money, a small amount ($13.45) or considerable cash ($94.15). The wallets also included a grocery list, meant to humanize the owner, and a business card with contact information.
Even the least streetwise person would expect most wallet-finders to pocket loose change, especially for nearly a hundred bucks. They'd be wrong: The researchers found that "the wallets with greater amounts of money were more likely to be returned."
Not every wallet made it back, of course, including some left at anticorruption offices and in the Vatican. But the team found that returners' honesty came down in large part to how they define themselves. "We mistakenly assume that our fellow human beings are selfish," said co-author Alain Cohn in a press release. "In reality, their self-image as an honest person is more important to them than a short-term monetary gain."
Cynics, it may be time to concede that people the world over can be a little bit better to each other (and themselves) than you'd think.