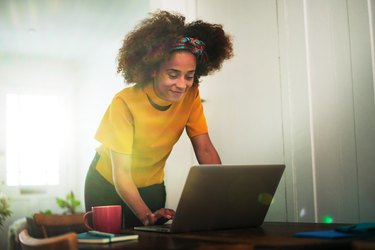 So much of interview prep sounds the same: Study possible questions. Rehearse your answers. Practice with a friend. It's all sound advice, but maybe you're unable to line any of that up. Enter LinkedIn, the trustiest online network for jobseekers out there.
Eight out of 10 millennials say they've been stumped by a question during a job interview. That's just one reason LinkedIn is rolling out an entire suite of online tools to qualitatively help you improve your first conversations with your prospective employer. Not only will the site provide a series of short videos to help you frame your approach, but Premium subscribers can access videos demonstrating ideal answers to common questions.
This is just the first of an ongoing rollout of interview prep aides. "Later this summer, we'll be rolling out the ability for you to privately share your recordings with your trusted LinkedIn connections to get feedback, coaching, and advice," write LinkedIn's Deepti Patibandla and Himanshu Khurana. "Working with a sounding board can also help you build confidence, tighten up your responses, and prepare for the unexpected."
Business Insider's Allana Akhtar got an early test-drive of the feature. "I found that even though making videos of myself answering questions felt uncomfortable and silly at first, I felt more comfortable practicing responses out loud over time," she writes. Her reporting on the experience is thorough and full of screenshots, images, and even video. It's a promising look at what could be a lifesaver for anyone out there looking to move on up in the world.