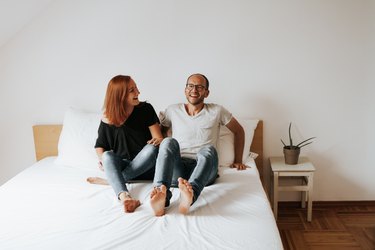 If you think the Tough Mudder or the Ironman Triathlon is a slog, wait until you try to buy your first home. Whether it's a condo, a house, or anything in between, the only thing more grueling than the search is the purchasing process. With a to-do list that long, it's easy to lose track of things by the time the end comes into sight. There's still one more set of expenses you'll want to build into your savings, though.
Apartment Therapy reminds us not to forget about closing costs. No, it's not a semi-infernal conceit meant to drive your last ounce of patience down the drain. Closings costs cover everything from attorney's fees to an escrow account to interest on your loans. Experts recommend saving between 2 percent and 5 percent of the purchase price of your house for these things. If you're already scrimping, start setting aside a little extra now so you're not caught flat-footed in the home stretch.
It's just one more thing you'll want to consider to get ahead in a ridiculously tight housing market. There is some good news beneath this potentially new curveball: Some lenders have created crowdsourcing platforms to raise funds specifically for home purchases. There are also less intensive tricks to increase the selling price of your current home, like painting your rooms certain colors or tailoring your listing to include desirable buzzwords. A good realtor will help you through any and all of these steps, but if home ownership is in your future at any point, better to know now than be surprised later.