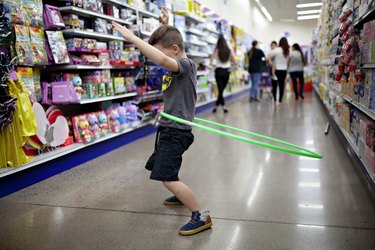 One major player in the holiday presents supply chain has fallen by the wayside this year: Toys 'R' Us may have been an icon of childhood, but in March, the 70-year-old company began liquidating its stores. For true believers, the store is making some tentative steps back into the marketplace. For everyone else, it's time to explore other options.
The usual suspects are more than ready. Amazon, Walmart.com and Target.com are toy-shoppers' top choices for online purchases, but there's an interesting catch. About 6 in 10 former Toys and Babies 'R' Us shoppers told research firm Criteo that they'd sought out a brick-and-mortar store for purchases they otherwise would have made at the shuttered stores. This stacks up with other retail trends, and could present more opportunities to support smaller, local businesses.
That said, there's always more to worry about. The consumer advocacy group U.S. PIRG has just released its 2018 Trouble in Toyland report, laying out some of the dangers to kids presented by this year's most popular toys. Smart toys may compromise privacy, fidget spinners may not pass regulations, makeup may have asbestos in it, and store-bought slime could contain toxic levels of the cleaning ingredient borax. In fact, at least 15 of the 40 toys the group tested may be unsafe for kids.
Holiday shopping shouldn't be a minefield (at least like that). Wherever you find toys for children, double-check to be sure they're age-appropriate. And if you're one of the lucky ones, check your closest Kroger or Party City for a Toys 'R' Us pop-up. Geoffrey the Giraffe may not be gone for long.