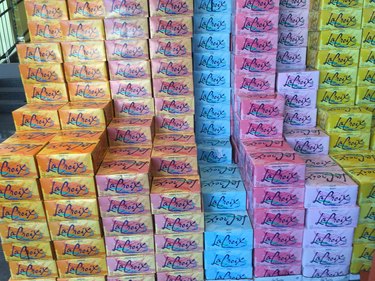 Just when you thought your lightly flavored sparkling water was safe, it came: a lawsuit alleging that LaCroix not only lied about its "all-natural" ingredients, but tried to pass off roach killer as one of them.
It's a pretty shocking headline. It also might be more noise than signal.
Here's what's actually happening: A class action suit has been filed against National Beverage, the parent company of LaCroix, after one consumer apparently had some LaCroix tested. Despite efforts to market and label the sparkling water as "innocent," "naturally essenced," "all natural," and "always 100 percent natural," the customer found synthetic compounds in the beverage. According to the lawsuit, "These chemicals include limonene, which can cause kidney toxicity and tumors; linalool propionate, which is used to treat cancer; and linalool, which is used in cockroach insecticide."
Popular Science puts some of these worries to rest by explaining what each of these compounds is and providing more context for the lawsuit's claims. For one, simply using chemical names should not set off alarm bells — chemicals are everywhere, and "sodium chloride" shouldn't be any more worrisome than "salt." Labels in general can be full of distractions, but just because they can be confusing, they're also not always out to get you. In fact, research shows that the more we understand labels on our food, the less afraid we are of attention-grabbing words and flashpoints.
In short, your LaCroix is not going to harm you. That said, if you're not convinced, call up the legal firm Beaumont Costales at (773) 831-8000 if you'd like to join the class action suit.