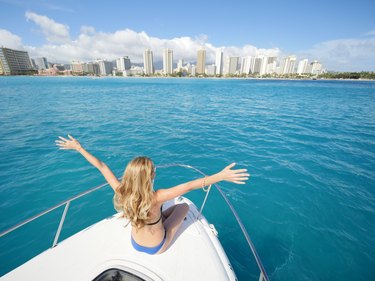 As the poet Ariel once sang in Disney's The Little Mermaid, "I want to be where the people are." Maybe you do too — and for you, the best places to start are already doing well. Luckily, the nonprofit Prosperity Now has compiled your shortlist for you.
The new Prosperity Now Scorecard has ranked 64 major American metro areas, all with populations over 300,000, along a set of 26 criteria. These include income and wealth, business ownership and employment, housing, access to health insurance, and educational attainment. Residents of Honolulu, congratulations — you're top of the pile on all counts, especially if you can manage the cost of living.
Other high performers include Seattle (7th), Louisville, Kentucky (6th), and Wichita, Kansas (10th). Prosperity Now's report lays out all the different ways in which these cities scores balance out. Unfortunately, one common factor is racial inequality. Those cities toward the bottom of the list, like Miami (62nd), New Orleans (58th), and Detroit (61st), have large minority and immigrant populations, which often mean systemic barriers to wealth creation and accumulation.
Of course, there are lots of ways to measure where you'll best fit in. You may care more about which localities rate themselves the happiest. You might be more interested in smaller cities, in which case, you can pick a new hometown from other lists. And if you're a hipster, even if you won't admit it, set your sights on the Midwest. No matter what, it's about fit, so find your people however you think is best.