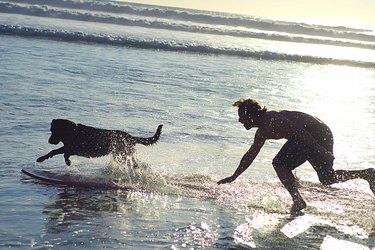 The days of bringing your pet onboard as an unofficial emotional support animal seem to be over. Rightly so — that's a designation which requires training for the comfort of both the pet and the passengers. But if you're wrestling with the cost of bringing your non-human family members on vacation, one airline is determined to win you over.
Flying with dogs, cats, or other animals can be an expensive proposition, especially given the latest rash of highly publicized pet deaths in cargo holds. Yet more and more destinations see dollars in allowing the whole crew to visit, including Disney. Enter Silver Airways: They're a local airline serving Florida, as well as the Bahamas, and if you book a ticket for your pet on or before June 26, you'll only pay $1 each way. Even better, that fare is donated in total to animal shelters.
There are some limitations, of course. This only applies to pets that can fit in a carrier small enough to stow beneath a seat. Cats, dogs, and birds are all welcome, but the airline says the pets must be "harmless, inoffensive, and odorless." Even if you don't jump on this offer before the end of the month, Silver Airways' "Fido Fare" is usually around $25. Of that, 5 percent also gets donated to animal shelters on the regular.
If you're eyeing a summer getaway to the Sunshine State, this may be your ticket to a fun- and fur-filled vacation for all. Silver Airways plans to expand its service throughout the country this year, so keep an eye out.