Buying a house may be the biggest investment you'll ever make. And of course, it represents more than just a financial transaction if you intend to make the house your home instead of an investment property that you intend to rent to someone else. Browsing through for sale listings is easy in today's digital world. You can sit in the comfort of your own home and take virtual video home tours, or you can flip through room-by-room photos of houses from your computer or smartphone. Buying a house for sale by owner is an optional approach to buying a property that's listed through a third-party agent.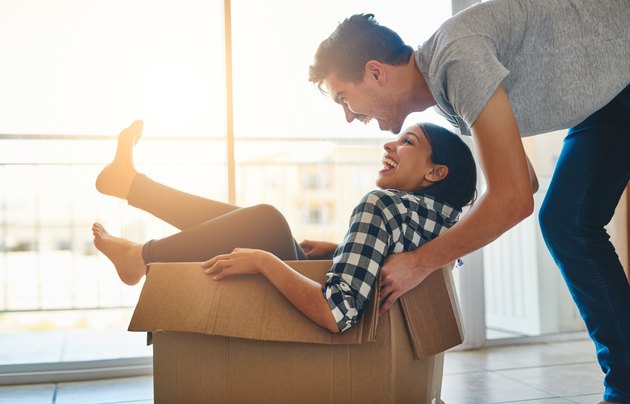 What Is For Sale by Owner?
For Sale By Owner (known in the industry as FSBO) is a way to sell a house that bypasses the need for a real estate agent or broker. Instead of using a listing agent, a homeowner – the seller – takes on the responsibilities of her own real estate transaction. Regardless of whether a seller uses a listing agent to facilitate the sale of her house, you as a purchaser have the option of using a buyer's agent to help facilitate your transaction. But if you don't want to use a buyer's agent, and if you're willing to do some homework as well as a bit of leg work, you can take matters into your own hands and deal with the seller directly to buy a house for sale by owner.
Buying a House For Sale by Owner Pros and Cons
Investing in real estate carries a measure of risk, as all investments do. On top of that, buying a house for sale by owner includes a list of pros and cons all its own.
At the top of the pro list is the potential savings you'll realize. If you don't use a buyer's agent, you won't have an agent or broker's commission fee added to the price of the property you're buying. Another pro is your ability to negotiate directly with the homeowner for any concessions he may be willing to make, which can impact the sales price in your favor. You also won't have a third-party go-between who may render you powerless to negotiate your own deal exactly the way you want to structure it.
Weighing the cons of buying a house for sale by owner is essential before proceeding in this direction. If you don't have experience handling real estate transactions, you may find the experience stressful and often quite daunting. You'll need a fair amount of time, at least a moderate measure of market insight and an ability to negotiate the waters of pricing while accurately sizing up your potential investment. If you're cautious about diving into the deep end of the FSBO pool alone, you may find that hiring a buyer's agent is the happy medium between you and your potential by-owner seller.
Do Your Homework
You'll want to research comparable sales, also called comparables or comps, which are homes that have recently sold with similar features, including size, style and location, as the home you're interested in buying. Numerous internet search features can help with this, including a review of local realtors' websites to search for currently listed homes. You'll also want to make sure that the property's title has no liens against it, which is information you can find at your county courthouse, or you can hire a title insurance company or a real estate attorney to do this work. While you're at the courthouse, find out what the property's tax bill has been in recent years so you'll have an idea of this additional cost of home ownership.
Schedule an Appraisal and an Inspection
It's not the seller's responsibility to provide prospective buyers with an appraisal, but this may be your best indicator of the true cost comparison and market value of the house. If you are truly serious about buying a property, you may find that it's in your highest interest to pay for an independent appraisal from a certified real estate appraiser. If the seller produces an appraisal, find out if it was performed by a certified appraiser – not a realtor or banker – and make sure that the date of the appraisal is within the last year. Market values fluctuate from year to year, so you want to base your decision on a recent appraisal. If the appraisal is favorable, your next step is to hire a certified home inspector. A home inspection reveals different results than an appraisal does. The inspector will perform a thorough check of the home's structural integrity, including the foundation, roof, crawl space, attic, electrical and plumbing systems.
Hire an Attorney
You can find do-it-yourself forms on the internet for real estate transactions, but these forms do not cover the specialized knowledge and experience that a qualified real estate attorney can offer. For such an important investment as a house, you may find that paying an attorney to review your paperwork and close the sale of your property is well worth this extra cost. You'll likely enjoy a significant savings if you're buying a house for sale by owner, so even if you pay an attorney's fee, you may still come out way ahead.