With more than 20 million enrolled user accounts and more than 300,000 participating merchants worldwide, Visa Checkout offers consumers a convenient, flexible and secure way to make online credit or debit card payments. All you need is a computer or any web-enabled mobile device. And even though it's called "Visa Checkout," you can add other credit and debit cards, such as MasterCard, American Express and Discover, to your account.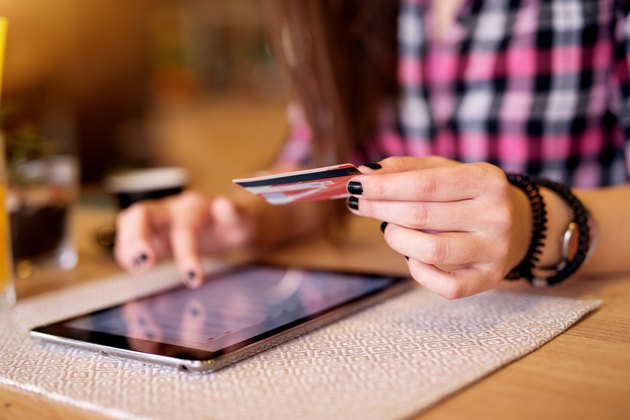 What is Visa Checkout?
Bank of America® calls Visa Checkout an online "express line." It's a streamlined way to pay for goods and services online without having to enter your card number, your address and other contact information each time you make a purchase online. After the initial account setup, you can typically check out through online shopping carts on participating e-commerce sites with just a couple of clicks.
How to Use Visa Checkout
Before you can use Visa Checkout, you first have to sign up for a Visa Checkout account. Visit USA.Visa.com and enter "Visa Checkout" in the upper right-hand search box. When the search results load, follow the prompts to enroll in Visa Checkout. You'll have to create an online account, which includes choosing a password, and then upload your credit or debit card information and shipping details. Once you've created your account, you'll be able to use the Visa Checkout feature on participating websites without having to enter your account information each time. If an online merchant offers Visa Checkout, you'll see the "Visa Checkout" logo on its website. Click the logo for your express checkout, and all you'll have to enter is your Visa Checkout login information.
Is There a Monthly Fee for Visa Checkout?
If you're a consumer, there is no cost to enroll in or a monthly fee to use Visa Checkout. If you're a merchant, you pay the same fees to process your customers' credit card and debit card orders as you normally do, with no additional fees required for offering the Visa Checkout option. This feature also uses your existing payment protocols for an effortless transition.
Is Visa Checkout Safe?
In a digital world where identity theft abounds, no online transfer of data is exempt from potential theft. Although Visa Checkout discloses its ongoing review of security protocols in its Terms of Service, it offers no guarantee that the data you upload to its platform is completely safe. However, the statistics for Visa Checkout security include a 63 percent reduction in fraud volume as a percentage of sales and a 56 percent reduction of fraud as a percentage of transactions when compared to transactions that do not use Visa Checkout. Visa Checkout cautions consumers against the possibility of a security breach and offers some safeguard tips, such as not enabling the "Stay Signed In" feature on your device and choosing a password that is unique to Visa Checkout.
Zero Liability Fraud Protection
In the event of a fraudulent transaction against your credit card or debit card, Visa offers a zero liability fraud protection benefit. For any cards that Visa processes that result in stolen funds, Visa returns 100 percent of the stolen funds to the compromised account. There are only a few notable exceptions, such as Visa corporate card transactions and anonymous Visa prepaid card transactions. Your responsibility is to report the theft of funds immediately to your card issuer and file any required report(s).
Making Changes to Your Visa Checkout Account
After you've set up your Visa Checkout account, you can make changes to the account. If you want to edit your card details, including adding another payment option, log in to your Visa Checkout account and follow the prompts to make these changes. You can also add more than one shipping address. For example, if you frequently make purchases online that you have shipped directly to your mother, another family member or a friend, you can enter these addresses once and simply click the shipping address you want for each purchase you make. If you want to add a default payment method, your purchase will still go through even if you don't have sufficient funds in your primary payment method.