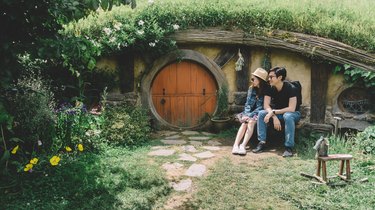 There's so much to love about hobbit homes, which we know and love from J.R.R. Tolkien's The Hobbit and The Lord of the Rings. They're cozy, they have beautiful gardens, they're designed to be unobtrusive — and if you want, you can have your very own, made from sustainable materials, for a shockingly low price.
Britain-based Hobbit House Ltd. creates individualized hobbit homes — round door, grassy roof, the works — that it guarantees will last at least 125 years. Its website claims the structures are perfect for "garden entertainment spaces… yoga rooms, home offices, glamping pods, and more." And it's all thanks to one firefighter, an enthusiastic fan named Matt Wright.
According to its website, Hobbit House will build its low-impact, prefabricated structures anywhere in the world. You can get a free design consultation, free installation (!!), super customization, and even hook it up to your power, water, and sewer grid. They'll also install solar panels and other renewable energy mechanisms, all without sacrificing the pastoral aesthetic of the Shire. Even if you're just looking to add some Airbnb income, this cheap build (starting just under $10,000 for a basic model) can probably help you rake it in.
Wright isn't the first to bring prefab hobbit homes to the people. Green Magic Homes offers a more modernist treatment of Chez Baggins. Their 400-square-foot products can be built in just three days "using three people with limited construction skills and no heavy equipment," according to The Spruce. If the world makes you want to hide in a hole in the ground, it's actually not always a bad option.