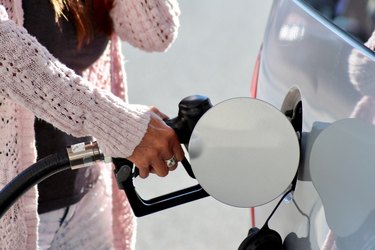 Whether you're a serious road-tripper or an easy local commuter, branded credit cards linked to gas companies seem like a natural fit. You can always use some help with the price of gasoline, and for driver's, it's the most constant regular purchase. But a new analysis suggests you aren't as well served at the pumps as you thought.
This week, CreditCards.com released a thorough breakdown of gas station credit cards and how much you save with each. Overall, you're probably better off with a general cash-back credit card. On average, with gas station credit cards, you get about 5 cents knocked off per gallon. Cards with higher discounts (some as high as 25 cents per gallon) generally come with a lot of preconditions, such as minimum spending requirements or time limits. Regular credit cards, meanwhile, offer a percentage of cash back that far outstrips most savings.
There are circumstances in which a gas station credit card works in your favor. If you're really devoted to one brand over another, or you're new to credit and building your history, they can offer some unique perks. But for more than three-quarters of us, we consider price before anything else when we fill up, which makes drivers far less loyal as customers.
Check out the full report for a deeper dive into the particulars, including a card-by-card breakdown of introductory offers that might be worth your while.