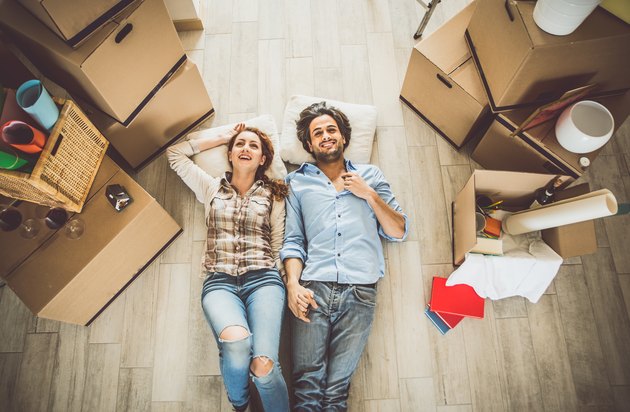 Housing might seem expensive and, spoiler alert, that's because housing is expensive. A new report from the National Low-Income Housing Coalition, details just how expensive it is — between 2007 and 2015 median rent prices rose six times as fast as the median income.
The 280-page study is filled with incredible statistics that make us feel less bad about how hard it is to find lodging. One standout stat that really blew us away: A minimum-wage worker in New York state would need to work 101 hours per week in order to afford a one-bedroom rental.
What we found most interesting though was the breakdown of how much people needed to make per-hour in order to afford a two-bedroom rental. This assessment is based on a 40-hour workweek, 52 weeks per year and mandates that the person does not pay more than 30% of their income on housing.
Considering that the federal minimum wage is $7.25, it's note worthy that not one state is affordable for one person to get a two-bedroom rental on that salary.
Here is how much must be made per hour in each state, from most expensive to least, in order to rent a two-bedroom.
Hawaii: $32.20
District of Columbia: $33.58
California: $30.58
Maryland: $28.27
New York: $28.08
Massachusetts: $27.39
New Jersey: $27.31
Connecticut: $24.72
Alaska: $24.16
Washington: $23.64
Virginia: $23.29
Colorado: $21.97
Vermont: $21.90
New Hampshire: $21.71
Delaware: $21.62
Illinois: $20.87
Florida: $20.68
Oregon: $19.78
Rhode Island: $19.49
Pennsylvania: $18.68
Minnesota: $18.60
Texas: $18.38
Maine: $18.05
Nevada: $18.01
Arizona: $17.56
Utah: $17.02
Georgia: $16.79
North Dakota: $16.36
Michigan: $16.24
Louisiana: $16.16
Wisconsin: $16.11
South Carolina: $15.83
Wyoming: $15.80
North Carolina: $15.79
New Mexico: $15.78
Missouri: $15.67
Kansas: $15.59
Tennessee: $15.34
Nebraska: $15.22
Indiana: $15.17
Ohio: $15.00
Montana: $14.90
Mississippi: $14.84
Alabama: $14.78
Oklahoma: $14.78
Idaho: $14.65
Iowa: $14.57
West Virginia: $14.49
South Dakota: $14.12
Kentucky: $13.95
Arkansas: $13.72
Puerto Rico: $9.68
If you want to read the rest of the fascinating study, you can check it out here.