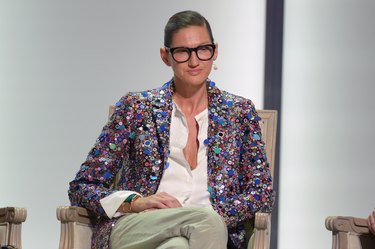 On Monday, news broke that Jenna Lyons, J. Crew's president and creative director, is moving on after 26 years with the company. Lyons turned J. Crew into the preppy-chic powerhouse we know it to be, and become a cultural icon in her own right.
While the reason for her move is a bit murky — though it must be stated that J. Crew's numbers were down in 2016 — the whole thing got us thinking about the best ways to leave a job, and not burn any bridges along the way. We don't talk about this enough, but last impressions can be just as important as first.
With that in mind, here are a few tips for leaving a job gracefully, which seems to be exactly what Lyons is doing.
1. Set an end date.
This is somewhat of a no-brainer but a lot of people do not give enough notice or even give no notice at all. This is bad form, and if you're resigning from a position you should always give the company enough time to make up for your absence — two weeks is standard, though if you're in a high-power role more time is preferable. Lyons already has her end date set and it's December 2017, which gives both her and J. Crew plenty of time.
2. Keep it positive.
Even if things are going poorly, take the high road. If someone — who is not a beloved confidant — asks why you're leaving and you find yourself getting into the negative nitty-gritty; just stop. Relatedly, keep it positive with your boss too. You don't know when you'll run into these people again along the road of your career, and the worst thing in the world is bad blood. Lyons is certainly keeping it positive, "It has been beyond my wildest dreams to work with such an amazing team of people at such an incredible brand," she said in a statement. Take a leaf from her book.
3. Work hard up until your very last day.
Though it can be tempting to mentally check out before your official end date try and stay as focused as you can. Like we said, last impressions count and if you spend your final days dropping the ball, people will remember that. If you spend your final days working as hard as you always have, people will remember that too.