In the same way that you lose a day when you travel internationally, we lost an episode to travel this week. The women make their way to Hong Kong, and all the drama seems to have been saved for the back half. At least there's some okay spending.
Our Process: We tuned in to see just how much the ladies are spending. In order to calculate, we focused on money spent in the episode. Clothing, cars, houses, etc are not calculated unless the women make the purchase on screen each week. If the women go out to dinner, we will attribute the cost to whichever housewife is given credit for the scene, as designated by the "title" before the scene.
At the end of the episode, we'll tally it up to see who forked over the most dough (and who is in the lead for the season).
LVP packs for Hong Kong
Ken watches LVP pack, commenting on her excess of luggage (she's bringing three bags). To which LVP gives the lovely response, "Erika takes four bloody people. You should be happy I'm only taking three bags."
Erika Jayne packs for Hong Kong
Proving LVP correct, Erika Jayne enlists three members of her entourage to help her pack— her hair stylist, her makeup artist, and her stylist. They ooh and ahh before racks of clothing as they decide on all of Erika Jayne's HK looks.
We know that Erika Jayne has these guys on salary (we really hope they're not hourly, because it'd be OT all the time), but she's still paying them, so we're adding it to the list.
Hair dresser day rate: $250
Makeup artist day rate: $250
Lisa Rinna packs for Hong Kong
Rinna packs while talking to her dog, Lola. Lola does what we wish we could with Rinna. She walks away.
Flying to Hong Kong
LVP is hosting the trip, so these flights are all going on her tab. Also, WHAT is going on with LVP's massive Chanel flap bag? Leave it to Vanderpump to use a luxury purse (that cost well over $5k) as her international carry-on bag.
With the cost of these flights, it's no wonder LVP first asked Erika Jayne if they could use her private plane.
Business Class Flights LAX-Hong Kong: $45,780 (7 flights at $6,540)
Arriving at the hotel
The ladies are staying at the Island Shangri-La, which we're sure will be expensive. But since we don't know the room sitch or the length of the stay, we're going to have to wait to find out how much this one cost.
Erika Jayne's victory rolls look
Erika Jayne tells us that she's flown her whole Glam Squad to Hong Kong. "It's expensive, but it's worth it." Once again, Erika Jayne is living all of our best lives for us.
Glam Squad Flights: $19,620 (at $6,540 each)
Drinks at the hotel bar
Erika Jayne and Dorit can't quite seem to get along, but the conversation quickly turns to Eden, who has invited some dude she's never met to share a hotel room with her in New York. That girl wants love real bad. Worry not about stranger danger because Eden has rules. Worry again because one of her rules is that she's going to be "naked in the bed."
Cocktails: $252 (2 drinks for each lady)
Rinna confronts Dorit
Rinna calls Dorit into her room to confront her about Dorit implying that Rinna was a pill addict, which she totally did. Dorit denies it, and they go back and forth for a while. We know this has all the elements of good drama, but we're having a hard time getting on board. We suspect Rinna hoped this would happen when she pulled that bag of pills out in the first place.
Sightseeing with Kyle and Erika Jayne
Kyle and Erika decide to go the sightseeing route, and for them, that means taking a photo in/under a giant fountain. It's a cool photo op, but where is the spending, ladies?
Later, they talk about shopping but we don't get to see it. Stop wallet-blocking us, Bravo!
Yulin documentary
Dorit and Eileen go with LVP to a screening of her documentary about the Yulin Dog Meat Festival, which is so gruesome that Bravo doesn't show us any of the footage. We know this is serious, but we couldn't help but wish that LVP had called it a dog-umentary.
Eden and Rinna go to Victoria Peak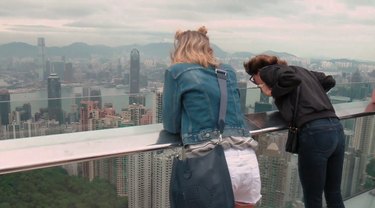 Rinna and Eden choose active tourism on their first day in Hong Kong. Rinna decides to live and let live you know… because she did say all that baloney about Kim. These women know how to make boring TV together, but we suspect that Rinna and Eden will stay real-life friends. There's no way Eden is coming back next season, right? Speculation aside, we have to admit that view is breathtaking.
Then they go to lunch at the top of the peak, where Eden gets an iced tea and Rinna gets a hot tea. They don't order any food.
Tickets to the top of Victoria Peak: $24 ($12/each)
Two teas with tax and tip: $10
Chartering a junk boat
Chartering a junk boat is one of the "musts" when you visit Hong Kong, according to travel sites. According to Erika Jayne, it's not that cool. (So we're torn! Erika Jayne is Queen of All Things. What do you do when she disagrees with Time magazine?)
This is where the drama heats up! Dorit and Rinna get into it in front of everyone, which is, you know, whatever. What really got us going was when Erika admitted in front of everyone that she doesn't care for Dorit.
Then, of course, we get slapped with a "To Be Continued…"
LVP is the MVP this episode!
Lisa Vanderpump: $700,228