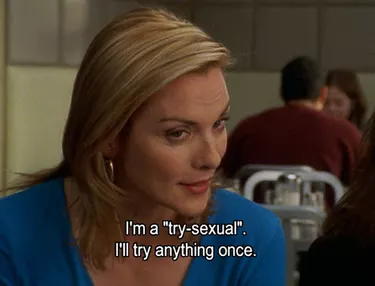 We have full respect for Samantha Jones of Sex and the City — she's sexually liberated, doesn't care what others think, and is pretty much a badass boss bitch. After all, she does own her own business...
Here's what we know about Samantha Jones PR: It appears to be a successful boutique PR agency, although some real PR professionals might claim that all that party-planning isn't exactly big-time PR. But for argument's sake, we'll assume she's doing well. Plus, she seems to keep her business expenses low — it's just her running the show, plus the occasional problematic assistant.
So, Sam does well, but it's fair to say, that at least in the TV series (not movie), she's not raking in MILLIONS. She probably manages to save a lot, though, because she lives in a rent-controlled apartment on the Upper East Side:
If you'll recall, in Season 3, Samantha faces a crisis with the neighbors in her building. The mostly senior crowd is upset with her "promiscuous" ways, which she brilliantly labels as jealousy: "They're a bunch of dried up old farts who haven't has sex since Eisenhower and I remind them of what they can't have."
And so, Samantha trades in her precious pre-war rental for a studio in the Meatpacking District, where, as Carrie says in her signature end-of-episode voiceover, "rents were much, much higher."
But just how high was her rent? It's mentioned just once, and you may have missed it. But it comes in the episode where Samantha has had enough with the transsexual prostitutes making noise outside her window.
She screams, "7,000 dollars a month and I have to listen to the trilogy of fucking trannies out there?"
$7,000. Per. Month.
Yes, New York City rents are high. But $7,000/month in the year 2000 would have seemed EVEN MORE ridiculous. And remember, girlfriend lived in a STUDIO:
And it's a safe bet to assume that Samantha was vastly overpaying in rent (granted, it's possible the Meatpacking was a trendier/more desirable 'hood in 2000, but at that time it was only just emerging as such). We took a look around at current rents in that area and couldn't find any studios in the $7,000 range. We found listings in the mid-$2,000s to $4,000.
When you look at the 1/3 rule (that 1/3 of your income should go towards rent), it's actually completely within the realm of affordability for Samantha. She'd have to make $21,000 per month pre-tax, which would be a salary of $252,000 per year. If her firm was doing well, she could be pulling that in. Where it seems a bit off, however, is that Samantha would appear to spend at least $7,000 per month on clothes alone.
But, jeez. $7k a month for what — 500 square feet? Maybe the lesson here is this: Just because you can spend $7,000 a month a rent, doesn't mean you should.