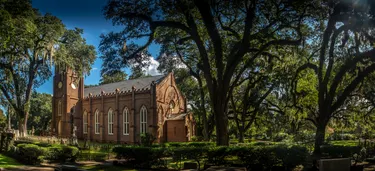 Episcopal bishops carry a great deal of responsibilities on their shoulders so, as one would imagine, a bishop salary reflects that. These religious leaders act as local authorities, governing their districts (dioceses) and acting as leaders on church matters. Those who have the calling and choose this line of work can expect rewarding careers as they guide their members through life events.
Episcopal Bishop Description
According to The Episcopal Church, their bishops are ordained ministers who unite and supervise churches with Christian leadership. They act as chief pastors, and lead services and preside at confirmations, receptions and reaffirmations. The Church in Wales lists some generic job responsibilities such as: Episcopal Bishops lead their staffs in administering the diocese, select clergy members and set policies for them and also serve as President of the Diocesan Conference and on the Diocesan Nomination Board.
With all of these duties, it is not surprising that a bishop salary can be well over $100,000 per year. Additional responsibilities include meeting with parishioners, participating in budget meetings and overseeing the church's buildings, grounds and volunteer efforts. The Episcopalian Church has a unique leadership structure headed up by a bicameral General Convention that meets every three years and an Executive Council. The Convention includes two divisions: the House of Bishops and the House of Deputies. Within the House of Bishops, there are bishops for every diocese as well as bishops in other categories as well.
Episcopal Bishop Education Requirements
Prospective Episcopal Bishops can start out by getting a bachelor's degree in a related field, like theology, religious education or biblical studies, but it is not unusual to get degrees in unrelated areas. Attending seminary school is a must, but this sometimes comes later: Some start working at a church, and the current bishop and church leaders may want to choose the seminaries that their Episcopal priests attend.
It is wise to join the Episcopal Church that you are most comfortable with, and to attend services regularly for at least a year before applying for the priesthood. You can speak with the church rector to let them know of your interest and, if all goes well, there will be a discernment committee formed to determine if you are suitable and qualified for the priesthood. The rector, committee and current bishop will work together to make their final decision.
The application process then begins, and this includes submitting an application and completing evaluations and a background check; these all have to be paid for, by the way. The bishop then makes a decision to proceed or not, and if you make it, the committee members will then interview you. The last step toward becoming a priest is a formal ceremony, where you would be ordained. When bishop positions become available, local bishops nominate priests to be given the spot. The archbishop reviews all the nominations and organizes a vote.
Episcopal Bishop Salary and Industry
The 2019 Episcopal Clergy Compensation Report has median compensation figures that reflect different regions, parish sizes, ages, genders and other factors. These numbers include base salaries, taxable cash payments, cash housing allowances/employer-provided housing, one-time payments and employer contributions to benefits plans. The median salary for all their clergy members was ​$85,000 for males/$75,978 for females​, and they also break it down by senior clergy members.
If you include Episcopal Bishops in that category, you can estimate that a bishop salary was ​$118,679 for males and $104,938 for females​. It is also thought that Episcopal Priests in this country average about ​$48,878​ a year. On the opposite end of the scale (and in the Catholic religion), Reuters reports that the Vatican's cardinals earn about ​$4,730 to $5,915 a month​ and receive subsidized housing. These are estimates, since the Vatican does not share this information; it is rumored that the Pope does not receive a salary.