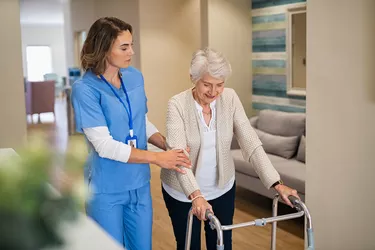 Even if you're an infrequent visitor to a healthcare center, it's relatively easy to spot an RCFE administrator. It's bound to be the person in high stride, carrying papers or a laptop and probably conferring with an associate in person or on the phone. Of course, RCFE administrators have been known to take a seat in their offices, too, but here too they're likely to be focused on one task while on the cusp of segueing easily to another. Balancing priorities is the nature of the job, and one of the reasons an RCFE administrator salary climbs to six figures. If you're considering this role as a career, it might be wise to set aside some of the money to purchase a pair of running shoes.
Paint the Scene for RCFE Administrator Salary
Before you lace up, you may wish to find your own shorthand for a Residential Care Facilities for the Elderly administrator. RCFE still covers a lot of ground, just like the job itself. The U.S. Bureau of Labor Statistics refers to them as medical and health services managers, though professionals in the field have taken the abbreviation cue and call them healthcare executives or healthcare administrators.
They are the people who "plan, direct and coordinate" health services at hospitals, physician offices, nursing home centers and outpatient care centers, the BLS says. In general, their responsibilities tend to correspond with the size of the healthcare facility, U.S. News & World Report says. This is another way of saying that if you find your niche, say, in a hospital, you might find yourself deeply immersed in several departments. But if you discover a better fit at a physical rehabilitation center, you could be in charge of the entire operation.
Close in on an RCFE Administrator Salary
Either way, it might be comforting to know that you could soon be surrounded by people who could provide medical assistance (in a good way): You might need it once you learn that the need for medical and health services managers is expected to increase by 32 percent by 2030 – a breathtaking increase that far outpaces the average of the more than 800 occupations the BLS normally tracks.
This projection could put you in good stead for a plum job, provided you have at least a bachelor's degree in a related field, though some employers prefer a master's degree. Experience is often touted as the best teacher, but an advanced degree could better prepare you for the challenges ahead, which include:
Ensuring that the facility complies with healthcare rules and regulations.
Measuring and improving the quality and efficiency of healthcare services.
Charting goals and objectives.
Overseeing the finances, budget and financial viability of the healthcare facility.
Recruiting and supervising department managers.
Communicating and maintaining good relations with the medical staff and department heads.
Representing the facility at investor meetings, before government panels and at community forums.
Acting as a media spokesperson.
Consider an RCFE Administrator Salary
From a potentially never-ending list of desirable skills, CollegeGrad says the ones that are probably most important for a medical and health services manager to possess are: analytical, communication, interpersonal, leadership, organization and technical skills. An ability to run, if not sprint, may not be cited in black and white on any job description, but it's right there, between the lines.
Healthcare managers might say that the level of responsibility of an RCFE administrator is reflected in the median annual salary, which the BLS pegged at ​$104,280​ as of May 2020. People who worked in government-run healthcare facilities and hospitals made even more, or a median annual salary of ​$116,380​ and ​$112,870​, respectively.
It may soon become second nature to you to get a second opinion, in which case you might be happy with one provided by Salary.com. It says the average annual salary of a healthcare services manager was slightly higher: ​$119,302​ as of September 2021, with the range typically falling between ​$106,472​ and ​$134,546​. A final salary depends on a number of factors, including education, additional certifications and experience. An ability to dash – maybe even during a makeshift 50-yard dash – can only help.