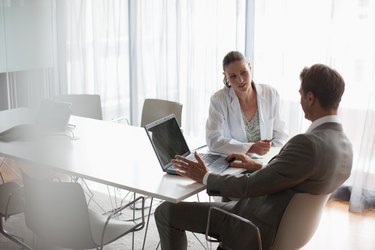 Some people are good at more than one thing, and while this is an excellent quality, it can make it challenging to choose a college major. One way to decide is to research the future earnings potential; for example, what is the average bachelor of science in biology salary compared to a master of business administration (MBA)? It's also wise to consider how much more you could earn for other bachelor's and master's degrees or what you could earn with an MBA and a BS in biology.
Biology Degree Average Salary
Biology and business majors can work in a wide range of fields, and some students get double majors that can open up even more career opportunities. After graduating, these individuals can find work at pharmaceutical companies with scientific equipment manufacturers and in government biological research; these are just a few examples, though, and the opportunities are quite varied. To get started on finding what these graduates can earn in the long term, it makes sense to first look at the average biology major salary.
The U.S. Bureau of Labor Statistics posts that the average salary of a bachelor's degree in biology is ​$65,000​ a year; this is pretty impressive since the average salary of a working 21-year-old in this country is $32,916; that amount is less than half of a biologist salary. The BLS also shows that biological scientists who have master's degrees earn ​20 percent more​ than those who don't; that's quite a difference.
A biology major salary can be pretty impressive for entry-level workers, and, with yearly increases and benefits, this amount can make for very comfortable lifestyles. What about business majors, though? These college grads can have degrees in accounting, finance, management, human resources, sales and marketing. The data provided by the experts at the Bureau of Labor Statistics shows that the highest-paying positions for grads with business degrees are accountants, auditors, managers and finance.
Getting an MBA can lead to higher pay in this field as well. According to the data, MBAs working in financial services sales can earn 89 percent more; logisticians can make up to 52 percent higher salaries. Other workers who benefit from higher pay with MBAs include transportation, distribution and storage managers, financial managers and market research specialists. Marketing and sales managers and property and real estate managers were at the bottom.
However, it showed that they were still earning ​36 percent​ higher salaries when compared to people with bachelor's degrees in business. The highest shown was for financial services sales: ​$170,000​.
An MBA/BS in Biology Major
Colleges and universities like Rutgers University offer dual MBA/BS in biology programs, and the coursework is challenging. Students have to maintain a minimum ​3.3 GPA​ and take the MBA courses towards the end. NYU Stern also has one that you can complete in ​three years​. Both schools offer career counseling and placement services as well. Those who graduate with these dual degrees can find work in pharmaceutical marketing, biotechnology management or as a scientific and regulatory affairs managers. The pharmaceutical industry pays very well, and an MBA/BS in biology major who ends up working as a chief executive in this industry could earn an average of ​$290,730​, according to the experts at the Bureau of Labor Statistics.
Of course, to qualify for these kinds of positions and salaries, you'll first need to complete your education and pay for it. Dual major programs and MBAs can cost more, but many students qualify for financial aid programs. For example, the National Black MBA Association (NBMBAA) offers graduate scholarships to qualified applicants and the writers at FederalStudentAid.com share a plethora of information about other ones. It's best to apply as early as possible; you'll need to spend time researching the options and additional time applying to the ones you choose.