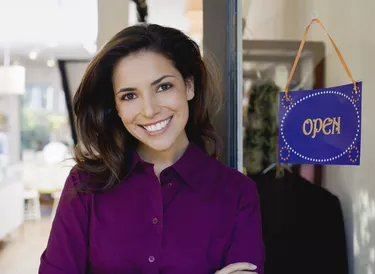 Choosing a sole proprietorship to start your business is a relatively simple process. In fact, you elect this business set up by default if you prefer not to go through a more formal set up with an LLC or corporation. A sole proprietorship has no formal paperwork requirements unless you have to file for state or local business registration or professional licensing.
It's Simple
The fact that a sole proprietorship is the simplest way to go into business has great appeal for many entrepreneurs. If you want to start a small one-man repair shop, writing business or lawn care service, the thought of going through tedious paperwork filing and keeping up with documentation requirements may not seem appealing. By opting for a sole proprietor setup, you simply start your company, promote it, do the work, and collect the money.
Tax Ease
If you file your own tax returns and want to continue to do so, a sole proprietor setup is typically the easiest way to do so. Sole proprietor income is recorded as self-employment earnings on Schedule C of the federal tax return. While you usually have to pay self-employment taxes on the earnings, you don't have as much rigorous record-keeping and tax computing to worry about.
No Money
Another reason to form a sole proprietorship is because you don't have enough money to invest in another structure. Even a simple LLC business registration usually involves a few hundred dollars in state filing fees. Plus, with some business structures, you normally have to invest some funds into a separate bank account to keep your business finances separate. Most formal business structures require one or more owners to put forth a certain amount of money up front. With a sole proprietorship, you can go into business with little or no up-front investment.
Control
If you want to make all of the important decisions about operating your business, going it alone as a sole proprietor gives you that freedom. You can provide the products and services you choose, set your own hours, and charge whatever prices you want. You also have control over how you exit the business. If you simply want to cease operations, you just close out any necessary finances and stop working. You can sell or transfer ownership rights at any point with minimal legal requirements. Most other forms of business involve shared ownership control or input from other stakeholders.