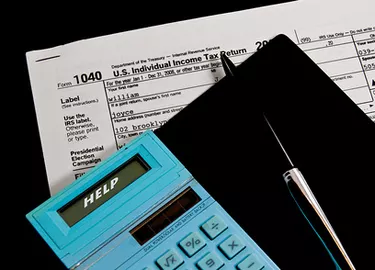 There are two things in life that are inevitable: taxes and death. Unlike the latter most people need help with taxes at one point or another in their lifetime. With so many forms, deductions, credits and yearly tax law changes it can be difficult to keep up. Luckily, there are many ways to learn income tax preparation. Whether you are looking to make some extra cash by working as a tax preparer or you just want to file your own tax return, taking the time to learn tax preparation can be extremely rewarding.
Step 1
Enroll in an accounting course at your local community college or other educational institution. Knowledge of accounting is extremely beneficial when learning to prepare taxes. Many colleges and universities offer beginner-level courses on accounting. In an introduction to accounting course, you will learn all the basics and fundamentals needed to prepare tax returns.
Step 2
Visit your local tax preparation service to enroll in tax course. Many tax services such as Jackson Hewitt and H&R Block offer courses in basic to advanced income tax preparation. The classes offered by these businesses can range from several days to several weeks depending on the level of material covered. Most even offer classes online and during evening hours to fit your schedule. As an added bonus, you may get a job offer after you have completed the course!
Step 3
Practice, Practice, Practice. The best way to become familiar with and learn tax preparation is to practice. Order tax forms from the Internal Revenue Service and prepare mock tax returns from scenarios of different tax situations. If you think you might want to get a job as a tax preparer ask a friend to pose as a client and interview him or her to complete a tax return.