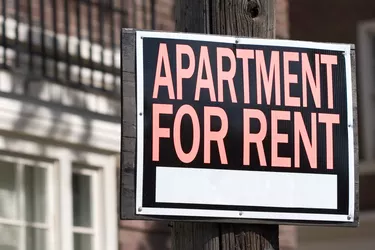 Most landlords require proof of income before they will rent an apartment to a new tenant. Traditionally, renters use their job as their primary source of income. Students can also use their student loan income to pay for an apartment. However, the landlord may require that you get a co-signer to sign the lease agreement with you. A co-signer agrees to cover the cost of the rent should you default on the payments and provides an extra level of financial protection for the landlord.
Step 1
Create a budget to determine how much of your student loan income you can afford to pay toward rent each month.
Step 2
Evaluate your needs to determine what size of apartment you will need and where you should live.
Step 3
Locate an apartment. You can search for available apartments through local newspapers, online listings or your college.
Step 4
Discuss your income situation with the landlord. Your landlord may require that you have a co-signer before you can sign the lease.
Step 5
Complete the application for the apartment and pay the necessary fees. Many landlords require a fee to run your credit and background check.
Step 6
Provide a copy of your loan documents or a current bank statement to your landlord. Provide documentation to show any other sources of income you have, such as a savings account. This documentation will prove you have the ability to pay the rent each month.
Step 7
Locate a co-signer. You can use a parent, family member or friend as a co-signer. The person should have verifiable income and a good credit history.
Step 8
Complete the lease agreement with your landlord. Read the lease carefully before signing. Have your co-signer sign the lease agreement as well.
Step 9
Pay the first month's rent and any required security deposits to the landlord.
Tip
If you request any changes to your lease agreement, have the landlord provide them in writing. A judge may not honor an oral agreement should you have problems with the apartment later on.
Warning
Choose your co-signer carefully. If your landlord requires a co-signer, he may not approve you if the person has a poor credit score or does not have enough income to cover the cost of the rent.
Things You'll Need
Student loan documents

First month's rent

Security deposit