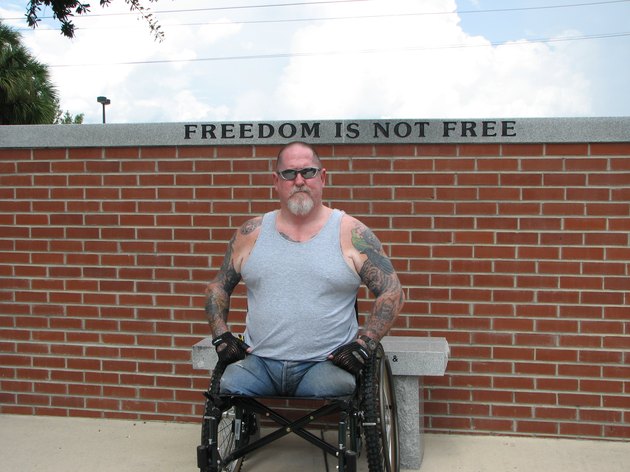 Those injured while serving in the armed forces are usually entitled to receive veterans disability benefits. These monthly benefit payments provide many veterans with either a supplemental source of income or they might comprise a veteran's sole source of income. These benefits are not included in the disabled veteran's taxable income.
Special Tax Considerations
Unlike ordinary wages made from working at a job, veterans disability benefits are not considered taxable income. This means the money paid to a veteran does not increase a veteran's tax burden and will not be used in calculating the amount of taxes a veteran owes to federal or state governments. Regardless of how much a veteran receives in disability benefits, the Internal Revenue Service and state tax authorities will not consider these benefits part of a veteran's income.
Lump Sum Benefits
It may take a veteran months or even years to successfully apply for disability benefits. When these benefits are finally approved, the Department of Veterans Affairs -- known colloquially as the VA -- will issue a lump sum payment for any back benefit payments owed to the veteran. Even though these lump sum payments can often be worth tens of thousands of dollars, these larger payments are not considered part of a veteran's taxable income.
Payments to Spouses or Children
Occasionally, a veteran is so disabled that his spouse may receive compensation from the VA for the veteran's care. If a veteran dies while an application for disability benefits is pending, her spouse or children -- or both -- may receive that veteran's back payments for disability benefits when they are approved. Regardless of why a spouse or child may be paid disability benefits on behalf of the injured veteran, those benefits are not taxable for the spouse or child.
Changes to Disability Benefits
If a veteran's disability benefits change, tax returns filed for prior years may also need to change. For example, if a veteran's disability rating is increased retroactively from 2010, the veteran should check to see if the change in disability benefits will decrease his taxable income for taxes filed from 2010 through 2014. The taxes a veteran owed for other types of income will likely be reduced as well in this case, and the veteran may be owed a tax refund.