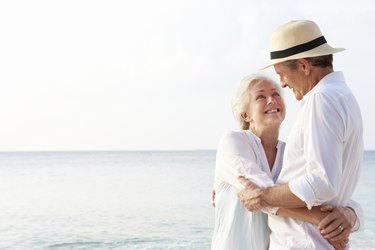 The chances you will need long-term care are getting higher the longer you live. That's an expensive proposition, especially since Medicare only pays for short stays in long-term care facilities. Purchasing a long-term care insurance policy might be a good solution for you. Rates are fixed at the time you take out the policy. Insurers usually don't raise long-term care insurance rates unless the assumptions they based the rates on prove to be wrong. You don't pay premiums while receiving long-term care.
Long-Term Insurance Coverage
Long-term care can take several forms depending on a patient's condition and the level of care needed. Typically, long-term care insurance is comprehensive in that a policy covers all or most of the extended care expenses you are likely to face. Comprehensive coverage includes stays in nursing homes and assisted living facilities as well as respite and hospice care. Adult day care and specialized care for Alzheimer's patients are also covered. Long-term care insurance also pays for in-home care, including skilled nursing, assistance with daily tasks and physical or occupational therapy.
Cost of Long-Term Care Insurance
Premiums for long-term care insurance vary widely based on age, physical health and your state of residence. Rates charged by different providers also vary significantly. According to a 2011 survey conducted by the American Association for Long Term Care Insurance, a typical comprehensive policy paying up to $150 per day for three years of care cost an average of $1,480 annually for a single person if purchased at age 55. However, premiums ranged from $1,325 to a high of $2,550. A similar shared or spousal policy purchased when both spouses were 55 averaged $2,350 per year. Premiums ranged from a low of $2,085 to a maximum of $3,970. However, if a couple waited until age 60 to buy the same policy, the average yearly premium jumped to $2,970 per year. At this age, annual premiums ranged from $2,605 to $4,935.
Coverage-Denial Statistics
The Affordable Care Act does not apply to long-term care insurance, so providers can and do turn people down based on physical health and existing medical conditions. The chances you will be denied coverage vary with age. The denial rate for people under age 50 was just 11 percent, and for those aged 50 to 59, it was 17 percent. Providers declined to cover 24 percent of applicants aged 60 to 69. The rate of coverage denial soared to 45 percent for those aged 70 to 79.
Good Health Discounts
Insurers offer good health discounts that take some of the sting out of long-term care insurance premiums. According to the American Association for Long Term Care Insurance survey, 60 percent of people aged 40 to 49 qualified for good health discounts. For those ranging in age from 50 to 59, the figure was 48 percent, but it dropped to 34 percent for people in their 60s. Insurers offered these discounts to only 16 percent of applicants ranging in age from 70 to 79.