Supplemental Security Income (SSI) is a federal program designed for those who have limited income and resources. SSI is for people who are age 65 or older, but it is as also available for those of any age who are blind or have disabilities. Funds are used for the basic needs of food, clothing, and shelter. Unlike Social Security, it is paid from general tax revenues. The amount of assets and income required for eligibility changes annually. Florida uses the federal standard for determining eligibility and payments, but also offers a state supplement for certain residents. Those qualifying for SSI automatically qualify for Medicaid. Eligible recipients must hold U.S. citizenship or have permanent residency status, and Florida SSI beneficiaries must reside in the state. Certain categories of aliens may receive SSI if they qualify. These categories primarily concern refugees and asylum seekers.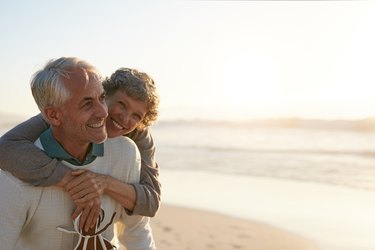 SSI Payments 2018
Individuals receiving SSI in 2018 will see a 2 percent uptick in their maximum monthly benefit from 2017, up to $750. Eligible couples may receive monthly benefits of up to $1,125. While 2 percent does not seem like much, SSI cost-of-living adjustments for the previous decade have been minimal.
Asset Eligibility
Individuals with less than $2,000 in assets and couples with less than $3,000 may qualify for SSI. Not all assets count toward eligibility. Your home, one vehicle and personal belongings don't count toward the limit. Certain financial assets are excluded, including burial plots or insurance, life insurance and grants or scholarships for education. Assets counting for eligibility include cash, stocks, bonds, savings accounts or certificates of deposit and other types of investments.
Income Eligibility
The maximum SSI benefit is geared toward those with virtually no other income. If you have some other, countable income, it is subtracted from the SSI amount. There is a formula for this countable income, and it is complicated. In general, you can receive $20 of income per month without it affecting your Florida SSI. You can earn $65 monthly without the money affecting your SSI. Half of any money earned over $65 does not count for SSI purposes. You may receive benefits such as food stamps, nonprofit aid, home energy aid and needs-based local and state assistance without it affecting your SSI amount. However, if you make $100 in non-eligible income each month, that amount is subtracted from your SSI benefit; for example, instead of receiving $750, you would receive $650. You must report any change in income, up or down, to the Social Security Administration within 10 days of when the change occurs.
Florida SSI Supplement
Florida offers supplemental SSI for eligible residents living in assisted living, mental health residential treatment facilities, community care homes or Medicaid homes. The latter refers to a living situation where Medicaid pays at least half of the costs. The current individual supplement is $78.40 monthly.
Florida Blindness and Disability Standard
In Florida, those eligible for SSI because of blindness must have vision worse than 20/200 with corrective lenses in the stronger eye. The blindness standard also holds for those whose visual field limitation is not above 20 degrees. The disability standard does not allow a person to engage in any "substantial" gainful activity, and this disability is expected to last at least a year or until the person's death.