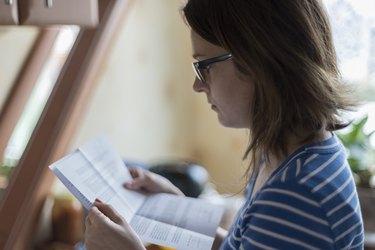 Before approving your rental application, landlords and property managers must ensure that you have enough income to cover rent. Presenting a few month's worth of pay stubs usually does the trick. If you're about to start a new job, however, you may need to present a copy of your job offer letter to verify your new wages.
Understanding and Verifying Income
When it comes to income, landlords need to be able to verify that you're employed and understand how much money you earn from all sources. Some documents that might verify this information include:
One, two or three months of your most recent pay stubs that detail gross and net earnings.

Government documents verifying disability payments, Social Security payments or unemployment wages.
For the self-employed, a copy of your most recent tax return detailing business revenues and expenses.
Bank statements that detail cash flow from investments.
Tip
Many landlords require that your gross monthly income be at least two or three times the monthly rent amount.
New Jobs and Income Verification
If you're about to start a new job, or recently changed jobs, you may not have a sufficient amount of income stubs to meet the landlord's income verification standards. If this is the case, you may be able to present your landlord a copy of a job offer letter to verify your future income.
Your landlord probably will have specific stipulations about what the job offer letter must contain. Before you present the letter, make sure that the offer letter:
Is printed on company letterhead.
Is dated and notes when employment begins.
Notes your annual salary or rate of pay.
Is signed by yourself and a representative of the company.
Other Requirements
Depending on your landlord's standards, the offer letter alone may or may not be enough to verify your employment. Calibre Associates, a real estate firm, notes that presenting offer letter often isn't enough to satisfy the income verification requirement.
Be prepared to provide other types of documentatio -- such as pay stubs from your old job, a copy of last year's tax return or a bank statement -- to verify that you've been gainfully employed in the past and have the funds to cover the rent. Have the contact information for your new company's HR representative on hand in case the landlord wants to personally verify the offer.