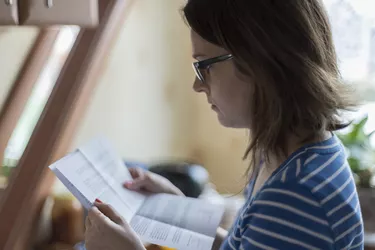 To rent an apartment, you will need more than just a renter's application. More often than not, landlords want to see evidence that you will be able to regularly make rent, such as your most recent paystubs or a letter of employment for renting. It's best to have these materials and other relevant paperwork ready to make the process run smoothly when apartment hunting.
Requirements to Rent an Apartment
While laws may differ from state to state, the paperwork and information you will need to rent an apartment generally stay the same across state lines. According to the Federal Trade Commission (FTC), you will need to supply a potential landlord with information regarding your employer and income, rental history and identification for a credit and background check, such as a driver's license. To verify employment and income, landlords typically request to see your most recent paystubs, a letter of employment and/or bank statements.
You will also need some money saved to cover initial expenses, the FTC notes. These expenses include the first month's rent, a security deposit and utility deposits for electricity, heat and water. Depending on your credit, you may be charged extra rent if you have bad credit. You also may need to cover the credit and background checks.
According to the U.S. Department of Housing and Urban Development, all paperwork should be ready to give you a competitive edge over other applicants. Be sure to have the rental application, written references from landlords, employers and colleagues, as well as a current copy of your credit report.
Offer Letter From Employer for Apartment
An apartment rental offer letter goes by many names. Sometimes referred to as a letter of employment for landlords, an employment offer letter, an offer letter for rent of property or a letter of employment for renting, it's a letter you present to a potential landlord when you're beginning a new job and haven't received any paystubs. If you are asked for an offer letter from an employer for apartment rental, it's not too difficult to get one.
Landlords like to see hard proof that a tenant will be able to make rent every month reliably. One of the many ways they verify this is through employment history and income status. According to Cocosign, letters of employment for renting protect landlords from fraud and future disputes since some tenants haven't been truthful about their income in the past.
Drawn up and signed by the employer or an authorized representative, the letter verifies that the potential tenant is beginning a job with the employer, as well as their salary. It's a formal document and should be treated as such.
Writing a Letter of Employment for Landlords
Letters of employment for renting an apartment should be written on the company masthead for authenticity. As stated above, letters of employment are formal documents, and landlords shouldn't have any doubt in their minds regarding the credibility.
According to Cocosign, the date must be included at the top of the letter, as well as the employer's name and address. The tenant's name must be included as well, along with their position within the company. Salary information should be included only if the landlord is looking to verify financial status.
Additionally, the tenant's contact information and the employer's contact information should also be included. This is so the landlord can follow up with the employer if they wish to verify the authenticity. Lastly, the letter should be signed by the employer or an authorized representative from the company.