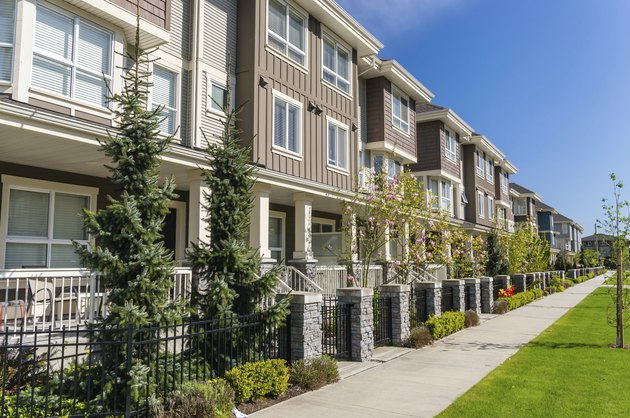 Loss assessment insurance coverage is part of a condominium or townhouse insurance policy, not a policy by itself. It helps insure common areas of properties that are collectively owned by members of a homeowners association, covering shared financial responsibilities that might arise in a claims process.
Communal Damage
If damage occurs only in your condo or townhouse and nowhere else, your individual unit or homeowners insurance policy will pay for the damage, subject to your deductible. If, however, the damage occurs to a structure that is communally owned by everyone in the homeowners association, such as a swimming pool, clubhouse or exterior structure of the condominium, the association's master insurance policy pays for the damage. This is an important distinction because loss assessment coverage applies only to communal, not individual, damage.
Property Damage Example
If a fire occurs in a condominium, several units may be affected as well as a large portion of the exterior structure. Each unit owner's insurance policy pays for the damage to her belongings, but the master insurance policy pays for the exterior structure and any other communal areas like elevators, stairways and garbage chutes. The association policy may carry a large deductible, like $25,000, or may contain inadequate coverage to pay for all the damage. The association may choose to divide the deductible and any uncovered damage amount among the unit owners. If $25,000 is divided among 25 owners, each owner is assessed $1,000.
Liability Example
Loss assessments may occur with liability losses as well. If, for example, someone is injured on the community grounds, the association could get sued for negligent maintenance. If the court award is $4 million but the association only carries $3 million liability coverage, the association will likely assess the remaining $1 million to the association members. If there are 100 members, each would receive an assessment of $10,000. Your loss assessment coverage would pay this expense, up to the policy limit you select.
Terms
Generally, loss assessment coverage applies only under certain circumstances. The assessment must be a result of a covered insurance loss, not routine maintenance. Thus, it will pay for assessments from roof replacement if the roof was damaged by fire, but not simply because the roof was worn out. The assessment must come from the homeowners association, not a government entity. Finally, the assessment must occur during the insurance policy period; the date of the loss that led to the assessment is usually irrelevant.