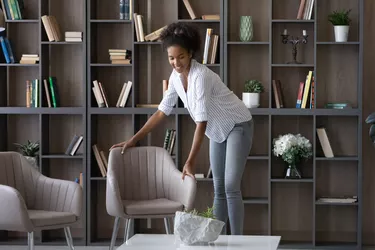 A planned development that's governed in part by a homeowner's association (HOA) forces a homeowner to exchange some control over her home for the benefits of fewer responsibilities for maintaining the property and the ability to enjoy some shared amenities and security.
A residential community, such as a condominium, is likely to have an HOA to ensure properties are well-maintained and that the community's atmosphere is a peaceful and cohesive one. If you purchase a condominium within a planned development, the HOA agreement will both impose some responsibilities on you as a member resident and spare you from certain obligations.
Before you buy a condominium, you should understand these obligations and responsibilities.
A condominium is an individual unit within a communal living complex. The complex may appear to be an apartment building, but individuals own each unit in the complex. The common areas, including a clubhouse, pool or tennis courts, are collectively owned by all the residents of the complex. The operation of these areas is governed by an HOA agreement.
A property's residents elect other residents to an HOA board, which rules on a variety of issues, such as common grounds maintenance, master insurance and community utilities. The HOA bylaws define the responsibilities of the association and those of the homeowner.
The majority vote of the board's members determines a property owner's monthly maintenance fee. This fee finances the upkeep of common areas, shared structures and home exteriors. Also, the board approves special assessments, such as those related to large community expenses, including recreational areas.
A 2017 review of an American Community Survey by Trulia found that HOA members paid an average fee of $331 per month. While HOA members in Warren, Michigan, reported the lowest monthly fee of $219, HOA fees in New York City averaged $571.
These fees are influenced by the community's location, the age of the buildings in the community as well as the number of units that fall under the agreement. Another major factor is the number and cost of the amenities available to the community. Communities secured by security guards and physical barriers, such as fencing and gates, impose higher fees as do those with a golf course and clubhouse.
Fees within a development can vary as well. These differences arise due to the square footage of a home, its orientation and its location within the property governed by the HOA.
An HOA board also adopts the means to fund unexpected expenses and capital investments, such as the replacement of an HVAC system in a community clubhouse. Other unexpected fees include legal expenses.
In this case, an HOA may assess fees for repairs and maintenance as the need arises, rather than include them as a line item in a monthly fee. A new roof or the replacement of an elevator might be handled this way.
An HOA might also establish a reserve fund for unusual expenses. The homeowner's fee for this fund will depend on the property's age, its condition and the amenities the community offers. Typically, these expenses are dealt with as line items in a multi-year budget for repairs and capital investments.
Most developments don't address property tax in an HOA agreement. Instead, the owner of the condominium pays the property tax as part of a monthly mortgage payment. So, when buying a condo, you must consider whether your personal budget can accommodate the monthly mortgage including the property tax and the HOA fees.
A community's covenants and rules that are stipulated in an HOA are unique. So, read the fine print of a current agreement. You might access the HOA rules at a community's website, or you can request them from an HOA board member or your real estate agent.
It's likely that your condominium fee will exclude your home's property tax. But to be sure, read the fine print and check local and state laws and regulations.